Live tournament update takes a look at the bookends of live tournament poker; the WCOAP in Aspers and the rumored $50m Royal Poker Challenge in Sydney.
There are many things that make poker such a magical experience, but the one that surely ranks up there as the one sprinkled with the most fairy dust, has to be the opportunity to sit down, pit wits and chew the fat with the likes of Shannon Elizabeth, Phil Ivey and Michael Phelps.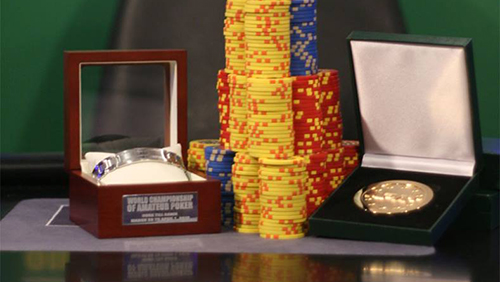 Let's be honest…you wouldn't get anywhere near these three celebrities in the 'real world' but poker breaks down these barriers. It's all things to all men, and women, as encapsulated quite wonderfully in the following paragraphs.
The Low Rollers
For those of you who haven't turned a two-bob ha'penny satellite into an online major score, where do you begin if you want to try your arm in the world of poker?
One such route could be the World Championship of Amateur Poker (WCOAP). A 16-event series with buy-ins ranging between £55 and £220, the net result of which is an affordable buy-in with a decent chunk set aside for the top three places.
The event is the brainchild of the Amateur Poker Association & Tour, and the sixth year of its existence sees them partner with British operator Coral Poker as sponsors of the event.
Des Duffy, Managing Director, APAT.com explains, "APAT created the World Championship of Amateur Poker in 2008 to offer a true WSOP style experience to recreational players in the UK who for whatever reason couldn't get to Vegas to experience the real thing.
We've continued to develop it over the past six years and now I don't believe there is a series quite like it in the UK, and certainly not at the affordable prices that APAT are making this available at. In addition players come from all over Europe to play now, which is just crazy for a low buy in series."
The schedule for the 16-event series can be found here, and includes a wide variety of formats such as Stud, Omaha, Omaha 8, Horse, Razz, Mixed, Heads-up, Six, Max and much, much more.
The event will take place at Aspers Casino in Stratford between April 15th & 21st.
The High Rollers
Amateurs don't just play in low buy-in events.
In 2012, Antonio Esfandiari took home $18m, and change, after winning the inaugural BIG ONE for ONE DROP $1m buy-in event at the World Series of Poker (WSOP), and it contained a high percentage of amateur players with more than a few bucks hanging around in their bank accounts.
The follow-up event has already been announced to take place at this years WSOP, but the excitement is threatening to be gazumped by the rumors circulating of a $1 million buy-in event known as the Royal Poker Challenge.
Rumors are rife that the Royal Poker Challenge will take place on March 30th at The Star Hotel and Casino in Sydney, Australia. According to reports, the event will be a $1m buy-in 'winner takes all' format with an estimated $50m going to the winner.
It's believed that 48 players have already agreed to participate and they include entrepreneurs and wealthy business executives from Asia, and royal family members from Denmark, Monaco and Britain.
Somehow I can't quite see the Queen putting up the million squid needed to play in this event.
I mean…could you imagine the drama if one of her Corgi's shat on Phil Ivey's loafers.
Neither the Queen, Prince Albert of Monaco nor Phil Ivey was available for comment.
Comments