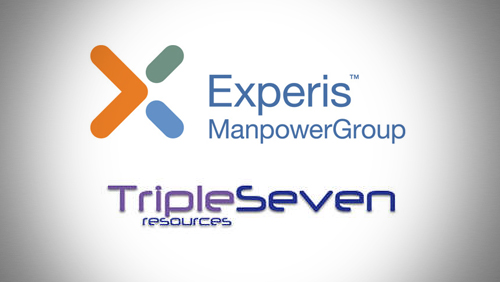 London X January 2014:  Experis, the UK's leading professional resourcing business is pleased to announce that it is acquiring a controlling stake in Triple Seven Resources, the iGaming recruitment specialists.
Experis will acquire a majority stake in the Company as part of its strategy to further enhance its specialist offering. Triple Seven Resources have experienced rapid growth over the last 12 months. But, to service their clients to the high standards they have come to expect, investment was required. Triple Seven will be able to draw upon the expertise, knowledge and resources of Experis, allowing further growth and development. With Triple Seven becoming part of the wider Experis Group it will provide a unique addition for its recruitment practices and broaden the offer available to clients as well as candidates.
Triple Seven will continue to trade as a separate entity and there will be no changes to the structure or organisation. The Experis investment will provide stability and resources in order for Triple Seven management to pursue a broader international growth strategy.
Commenting on the announcement, Geoff Smith Managing Director of Experis UK said:
"We are delighted to be partnering with Triple Seven. We see real opportunity with the business and believe this is going to be a great relationship for both companies as we seek to expand and build on the already strong foundations that have been built. For Experis we are gaining the expertise and insight of a niche player in a key sector and this fits into our longer term strategy for identifying specialist organisations that can strengthen our existing offer. "
Co-Founders of Triple Seven, Michael Cleavely and David Hood said:
"We are extremely pleased that we have secured this agreement with Experis.  Triple Seven has developed rapidly since its inception in 2007 and this investment and access to first-class infrastructure will allow us to leverage Triple Seven's sector expertise and Experis' global footprint. We are the first specialist iGaming recruitment company in the world with such powerful international reach and resource and are looking forward to servicing our clients with our improved capability."
Experis Tel: 020 3122 0261
Gareth Vale/Keith Maclean
Brunswick Group LLP Tel: 020 7404 5959
Charlotte Winsley/Mazar Masud/Chris Buscombe
About Experis
Experis is the global leader in professional resourcing and project-based workforce solutions. Our suite of services range from interim and permanent resourcing to managed services and consulting; enabling businesses to achieve their goals. We accelerate organisational growth by attracting, assessing and placing specialised professional talent across Finance and Accounting, IT and Engineering. Experis operates in more than 50 countries and works with over 80% of the Fortune Global 500, deploying 38,000 skilled professionals every day. www.experis.co.uk
About ManpowerGroup
ManpowerGroup™ (NYSE: MAN) is the world leader in innovative workforce solutions that ensure the talent sustainability of the world's workforce for the good of companies, communities, countries, and individuals themselves. Specialising in solutions that help organisations achieve business agility and workforce flexibility, ManpowerGroup leverages its 65 years of world of work expertise to create the work models, design the people practices and access the talent sources its clients need for the future. From staffing, recruitment, workforce consulting, outsourcing and career management to assessment, training and development, ManpowerGroup delivers the talent to drive the innovation and productivity of organisations in a world where talentism is the dominant economic system. Every day, ManpowerGroup connects more than 630,000 people to work and builds their experience and employability through its relationships with 400,000 clients across 80 countries and territories. ManpowerGroup's suite of solutions is offered through ManpowerGroup™ Solutions, Manpower®, Experis™ and Right Management®. ManpowerGroup was named one of the World's Most Ethical Companies for the third consecutive year in 2013, confirming our position as the most trusted brand in the industry. Learn more about how ManpowerGroup can help you win in the Human Age at www.manpowergroup.co.uk and www.manpowergroup.com
About Triple Seven
A market leader in the sector, Triple Seven Resources is an innovative and dynamic recruiting agency focused on delivering high-quality recruitment solutions to the Online Gaming and Gambling industry.  Our expertise and experience means we have been effectively servicing the world's leading operators, gaming software technology and platform providers, as well as 3rd party service providers such as PSPs, media agencies, and technology solution providers since 2008.  We network across the globe in order to match the perfect candidates and clients together on either a permanent or interim basis. www.triplesevenresources.com
Comments