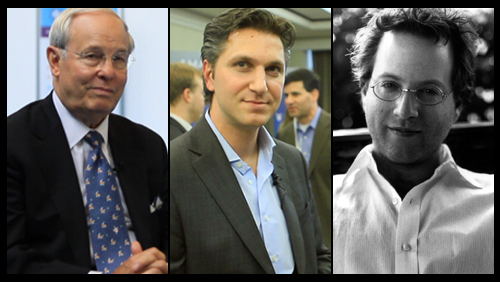 Throughout the course of one year, CalvinAyre.com Reporters and Writers conduct dozens and dozens of interviews around the world with CEOs, conference speakers, SEO experts, poker pros, famous athletes, actors, authors, industry icons, tournament directors, virtual currency gurus and so much more.  Here are ten terrific interviews from 2013, literally picked out of hundreds.
10) Brock Pierce, Entrepreneur & "Godfather of Virtual Currency"
The value of a Bitcoin has skyrocketed since CalvinAyre.com first started taking notice of the virtual currency about one year ago and somepredictit will be the ideal currency for the iGaming industry.  Serial entrepreneur and formerchild actor (who knew?!) Brock Pierce explains what all the fuss is about in this interview about Bitcoin, including the potential of the currency in America vs. emerging markets and the Bitcoin community's reaction to the shut down of Silk Road.
9) New Jersey State Senator Ray Lesniak
Online gambling regulation has finally arrived in the New Jersey and according to Senator Ray Lesniak, his state is set to become the new online gambling mecca. In this recent interview, the Senator discusses his new bill that would allow for international companies to base themselves in New Jersey, he invites to Sheldon Adelson for a face to face conversation and explains why sports gambling should be legalized in New Jersey.
8) @DBCOOPA, Anonymous member
"Anonymous" can mean different things to different people, but in this case, it means "anonymous" as in the social and political force, the "V is for Vendetta" mask.  In this interview, @DBCOOPA, an "Anon" who contributes to the Twitter group @YourAnonNews, talks on the makeup of the Anonymous, the group's portrayal in the media, its operations, politicians and governments that follow the same ideology and educating others on that ideology.
7) Eamonn Toland, President, Paddy Power North America
Paddy Power is known for their PR stunts, success with social media and other outstanding branding strategies. Eamonn Toland has been tasked with bringing the Irish Paddy Power to America and in this interview from G2E he shares Paddy Power's plans for the US market, insight on the brand's social media strategy and the purpose of Paddy Power's controversial sponsorship of Dennis Rodman.
6) Boris Becker, Tennis Pro
The world famous tennis legend Boris Becker joined his sponsors YouWin.com at EiG and proved to the industry why he is an excellent brand ambassador.  In this interview with Becker he shares his favorite tennis victory, his thoughts on the impact of online gambling on the sport of tennis, how to make the most of a sponsored athlete and why he chose to be a part of the YouWin.com team.
5) Antonio Esfandiari, Poker Pro
The regulation of online poker is finally beginning to kick off in the United States, much to the delight of poker pros such as the world famous Antonio Esfandiari.  As the brand ambassador for the Nevada regulated UltimatePoker.com, in this interview, Esfandiari is in a great position to share his point of view on how things are going in Nevada and what the future holds for online poker in the United States.
4) David Baazov, Amaya CEO
As CEO of one of the larger companies in the gambling industry, David Baazov is a well known figure and wealth of information.  He may be hard to track down due to an unbelievably busy travel schedule, but once you've got him, his pleasant, down-to-earth manner is contagious and most certainly worth the wait.  In this interview, Baazov shares his views on hot industry issues such as the convergence with social gaming, M&A's and opportunity within the US market.
3) Nolan Dalla, WSOP Media Director
Everyone involved in poker knows of the legend that is Nolan Dalla.  His passion is contagious, his knowledge is evident, his warm personality is rare and as Lee Davy so accurately stated, "he is a wonderfully articulate man".  Dalla shares so much about the WSOP in this interview, including his special moments from the tournament, reasons for the increase in player participation and why we saw more Canadians than ever in the 2013 WSOP.
2) Ben Mezrich, Author of Straight Flush
"Straight Flush" was released by famous American author Ben Mezrich earlier this year, a story based on the rise and fall of the Absolute Poker founders and was unsurprisingly very controversial amongst the online poker community.  Mezrich defends his position in this interview, explaining that he's not an investigative journalist and admitting that true or not, the AP frat boy story followed his usual "sex, drugs and rock 'n roll" formula that usually and hopefully leads to Hollywood.
1) Frank Fahrenkopf, former President of AGA
Frank Fahrenkopf served as the President of the American Gaming Association for eighteen years and accomplished so much for the industry during his time at the helm.  Fahrenkopf shares his impressive background and reflects on his time at the AGA, how the industry has evolved and where it is going in this interview filmed at the iGaming SUPER Show 2013, his last appearance as AGA President.