San Jose, Costa Rica, (October 23, 2013) – After the successful launch of the Network's flagship poker room, FullFlushPoker.com, the EquityPokerNetwork.com ("EPN") is that it has welcomed new European-focused online poker room IntegerPoker.com ("IntegerPoker") to the EPN 'family'.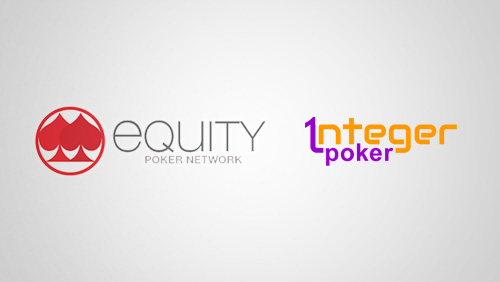 The addition of IntegerPoker to EPN further legitimizes the Network's unique 'non-profit' business model, answering the call from existing and new Operators for a smarter Network alternative that guarantees a level playing field for all, and more profits back to the Operators.
IntegerPoker's own press announcement cites several reasons for choosing EPN over its competitors, including the Network's philosophy of transparency, and emphasis on providing a safe and secure online poker room to players around the world. As a member of the EPN Cooperative, IntegerPoker will also receive the benefit of attractive low fixed monthly fees and minimum costs to the Operator, plus their fair share of the profits, based on contribution to the Network.
The IntegerPoker slogan "We are everyONE", encapsulates their concern for every player and their constant drive to provide them with great promotions, and a twist on VIP benefits. In a similar vein, EPN stresses the importance of a balanced eco-culture by imposing a "Shark Tax" to protect the recreational player, as well as allowing IntegerPoker a level of autonomy to configure its own tournaments and promotions, and to create bonuses, rewards and cashback for players.
The clear synergy between EPN and IntegerPoker has made the partnership an obvious choice for both parties, who will continue to work together to enhance the current software offering with innovative solutions, and to implement continually improved checks and balances to protect the players.
"IntegerPoker is a perfect fit for Equity Poker Network, and we're excited to have them on board. Our thinking is aligned in many ways that will make working with IntegerPoker a delight. They promise their players a well-balanced online poker room with exciting promotions and tournaments, and a poker room they can always trust; that's exactly what EPN is all about, and what we ultimately will deliver in spades, " said EPN Founder and CEO Clive Archer.
This week for the first time, IntegerPoker's players will join those at EPN's FullFlushPoker.com, for the Network's current schedule of free-to-enter poker tournaments, which includes a nightly $100 Freeroll at 20:00 ET, Monday through Friday, a $100 Freeroll on Saturday at 12:00 ET, and the big weekly Sunday $3000 Freeroll at 15:00 ET.
Powered by scalable software that has been tried and tested for over 10 years, EPN is well equipped to provide tailored turnkey services to operators around the world in all jurisdictions with multi-currency and multi-language capability. Expect further EPN partner announcements to follow.
Contact [email protected] for business enquiries.
About the Equity Poker Network
The Equity Poker Network (EPN) is the world's only Cooperative poker network that represents the future of poker networks – a fully transparent, peer-to-peer network of operators looking to profitably add poker to their portfolio or increase their existing poker profitability. It's a non-profit organization (to maximize profits of its Licensees), committed to the transparent distribution of profits on the basis of contribution to the poker network, with low fixed fees and minimum costs to the Operators who form this poker collective.
Learn more about the benefits of joining the EPN. Visit us @ http://www.equitypokernetwork.com/
Comments