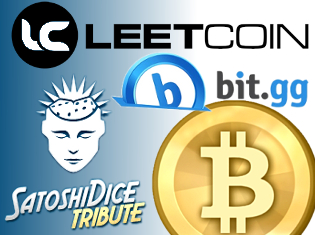 Online gambling using Bitcoin has been given a makeover via the introduction of SatoshiDICE Tribute, a remodeled version of the original Bitcoin gambling game SatoshiDICE. A new feature of the Tribute game is 'social competition,' including the opportunity to become 'SatoshiDICE royalty,' i.e. one of the game's top three players, who will receive a slice of the total amount of Bitcoins wagered on the game by all players. The top player gets 0.1% of all bets placed, while number two gets 0.05% and number three earns 0.02%. The rankings are wiped clean every 24 hours to ensure everyone gets a fair shot at becoming top dog.
The SatoshiDICE site was sold in July to undisclosed buyers for BTC 126k (around $11.5m at the time). A representative for the new owners told CoinDesk that Tribute was in development before the sale. Tribute operates off the blockchain, allowing for near-instant results, while retaining its 'provably fair' status. Unfortunately, Tribute's launch suffered from a number of glitches, resulting in the site being taken offline over the weekend. The administrators have promised a bug-free version by Monday, but in the meantime, users can still enjoy the original version, which has been rechristened SatoshiDICE Classic.
If that's not enough variety for you, Bit.gg offers a way for eSports fans to wager Bitcoin on any facet of competitive video games like StarCraft II and Counterstrike: Global Offensive, so long as said wager has a definitive yes or no outcome. All Bit.gg bets are suggested by the site's users, and in addition to collecting on their winning wagers, players can also earn 1% of all Bitcoins wagered on the bets they suggest (assuming the suggestion is approved by the site admins).
Then there's LeetCoin, which offers players of first-person shooter games the chance to win Bitcoins with every single virtual kill. Players log onto the system via the Steam digital distribution platform for multiplayer games, after which they choose a wager level – comparable to choosing what level of stakes you wish to play poker – that will earn players, for example, 0.001 Bitcoin per kill. Conversely, you'll also pay that amount every time someone pops a cap in your virtual ass. LeetCoin, which is currently in beta testing, plans to earn a 4.95% commission on all wagers. A similar service, BitcoinTerror.com, launched last summer but went offline after failing to catch on with users.