Day 2 of the Global Gaming Expo was highlighted by a keynote address on the state of the gambling industry, with a panel of chief executives moderated by Nevada journalist Jon Ralston. After a brief introduction by new American Gaming Association president Geoff Freeman, Ralston and the panel delved into some of the key topics facing the industry.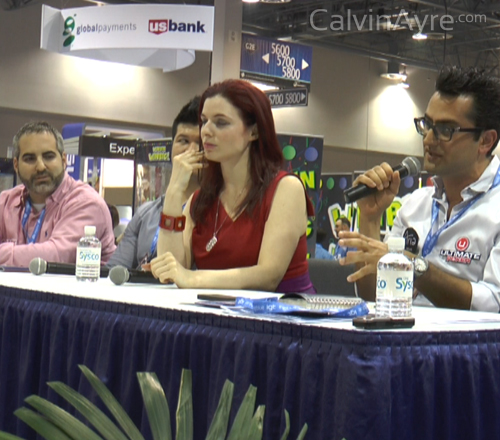 Ralston first raised the issue of consolidation, pointing to the series of recent mergers in the industry. Was this to become an ongoing trend, he asked? The first respondent was Anthony Sanfilippo, CEO of Pinnacle Entertainment, and an expert on the topic; his company closed its $2.8 billion acquisition of Ameristar Casinos just last month. Sanfilippo argued that the purchase was simply "the best way to grow our company," adding that the size and scale of the combined companies offered a number of benefits. But he added that it was "hard to know" whether the trend would continue, if only because there were relatively few targets left.
The next answer came from the CEO of perhaps one of those remaining targets, Virginia McDowell, the head of Isle of Capri. McDowell guessed that consolidation was "probably going to slow down a little bit." After similarly-sized operators Ameristar and Peninsula Gaming (bought out by Boyd Gaming in 2012) were taken over at substantial premiums, one wonders if McDowell didn't have a tinge of regret in her voice as she made the claim. Penn National Gaming chief operating officer Timothy Wilmott thought that more minor deals would come down the pike in the wake of his company's upcoming conversion to a real estate investment trust (REIT). With debt still an issue in the industry – and a greater issue given the billion-plus raised by both Pinnacle and Boyd to finance their purchases – Wilmott predicted minor moves to shore up balance sheets. Firms could sell existing properties to the REIT to raise cash and then sign a long-term lease (known as a sale-leaseback transaction). This would raise to cash to retire existing debt; going forward, lease payments would be less than the interest payments would have been on the retired bonds.
Where the panel seemed to agree was that consolidation was the industry's response to its lack of growth, a problem that would be highlighted at several sessions throughout the day. Sanfilippo recalled the regional business 20 years prior, when new markets in the Midwest provided astonishing growth. Now, "our industry is a much more mainstream offering," he pointed out. And there are few markets left. When Ralston asked whether the US regional industry was at a "saturation point," the panel seemed to agree that it was at least getting close. Wilmott pointed to Texas and Florida as underserved markets, but also noted the cannibalization in Atlantic City and the Northeast and the fact that Ohio had already become a "crowded market" less than eighteen months after its opening. McDowell claimed that it was getting "harder and harder to find places where you can invest," a theme echoed by Holly Gagnon, CEO of Mississippi tribal casino Pearl River Resort.
The limited room for geographic expansion was highlighted by the next question from Ralston. After the discussion steered toward international opportunities, Ralston asked where, besides Asia, US firms could look for growth. In response, Sanfilippo discussed Pinnacle's investment in Vietnam, while Wilmott touted long-term hopes for Japan and South Korea. All three of those countries are obviously in Asia, as clearly the panel simply didn't hold out much hope for the rest of the world. Ultimate Gaming head Tobin Prior – a land-based gaming veteran before joining the online poker operator – dismissed Europe out of hand, calling it "saturated," "well-developed," and "high-tax," with "restrictive regulation." (Beyond that, the Continent holds a lot of promise.) He did offer some hope for South America (echoing comments made at another session the day before), assuming some sort of regulatory reform, and possible growth in Russia and Eastern Europe. But overall, the panel seemed to agree that the boom days of double-digit revenue growth in the industry, and particularly the regional gambling industry, were gone, possibly for good.
Ralston then turned to the question that arose time and time again at the conference: what would be the effect of online poker and iGaming on the industry as a whole? Pearl River's Gagnon admitted some trepidation about the effect on her properties, saying that "we watch it closely…it could be an opportunity, or a threat." Later in the discussion, Pinnacle's Sanfilippo expressed similar uncertainty, noting that operators were unsure how much to invest or with whom to partner in the segment, while still arguing that "every company has to consider it as part of their business model right now." Wilmott was more blunt, saying "it's clear as mud right now," and adding that the effect of online gambling on brick-and-mortar casinos "keeps me up at night."
There did seem to be some hope that new, regulated operations in the US will provide more clarity. Wilmott suggested that New Jersey would give the industry more information, noting that there was a wide range of projections and saying it is "going to be interesting to see how big" the market gets. Later in the discussion, Tobin Prior – whose outfit was the first to market in Nevada – said the state's online poker regime was important because it allowed gambling operators to "prove out" the technology needed to support a safe, regulated system. Regulators want the Internet to be "a really safe place," and success in Nevada was a key step, he argued, to showing regulators and legislators in other states that iGaming is feasible in their jurisdictions as well.
Back in the brick-and-mortar world, panelists noted a significant change in the behavior of the land-based customer over the past twenty years. Sanfilippo argued that customers were not interested in just making bets, but wanted "memorable experiences," including excellent service and food and beverage options. McDowell agreed, noting that when she first joined a regional gaming operator 17 years ago after working in Atlantic City, she commissioned a study about whether restaurants and lounges were of interest to the regional customer. The answer was largely no; those customers were interested solely in gambling. The Isle of Capri CEO said she believed the results would be far different now, noting that many gamblers who did set a gambling budget now set aside some of those funds for dinner or drinks, with as little as half of the budget set aside for losses on the slots or at the tables.
In short, the panel seemed to be arguing that the industry is simply vastly more difficult, as the newness of regional casinos has worn off and they have become, as Sanfilippo said earlier, "mainstream." Gagnon said customers were "much more value-aware…much more savvy" in terms of using and seeking promotional spend or comps. Penn's Wilmott echoed that characterization, calling customers "much more demanding" than before.
All told, the panel discussion revealed many of the challenges currently facing US gambling operators, and the fears about the future challenges coming from online gambling and increased competition. As such, it was fitting when Ralston closed the session by asking each panelist what the single biggest challenge facing the industry was.
Prior – reasonably, as his company is focused online – cited the lack of consensus on regulation, which is preventing any real investment in US iGaming. Wilmott said the biggest question for operators was how to create growth when your company is already large. He pointed to three methods: mergers and acquisitions, entering new US jurisdictions, or expanding globally. Yet the fact that the roadblocks to all three paths had been discussed earlier in the keynote showed just how difficult generating that growth will be going forward.
McDowell cited the continuing weakness in the consumer, noting that the sluggish economic recovery in the US simply hadn't trickled down into the gambling industry. "How are you profitable when people aren't spending?" she asked rhetorically. It's just one of the many thorny questions facing the US gambling industry right now, and it's rather scary to realize that even a panel of five experts don't have all the answers.