The Global Gaming Expo kicked off on Tuesday with a typically jam-packed slate of speakers, exhibits, and meetings. Sessions on some 12 tracks, ranging from casino design to security and surveillence to finance, were held all day throughout the cavernous Sands Expo Center in Las Vegas.
Our talented correspondent Becky Liggero is posting video reports from the conference throughout the week, while I'll be augmenting her coverage with recaps of notable and interesting events from each day. Among the highlights of Day 1 –  Checkout the G2E Recap, Day 1: Latin America.
New Slots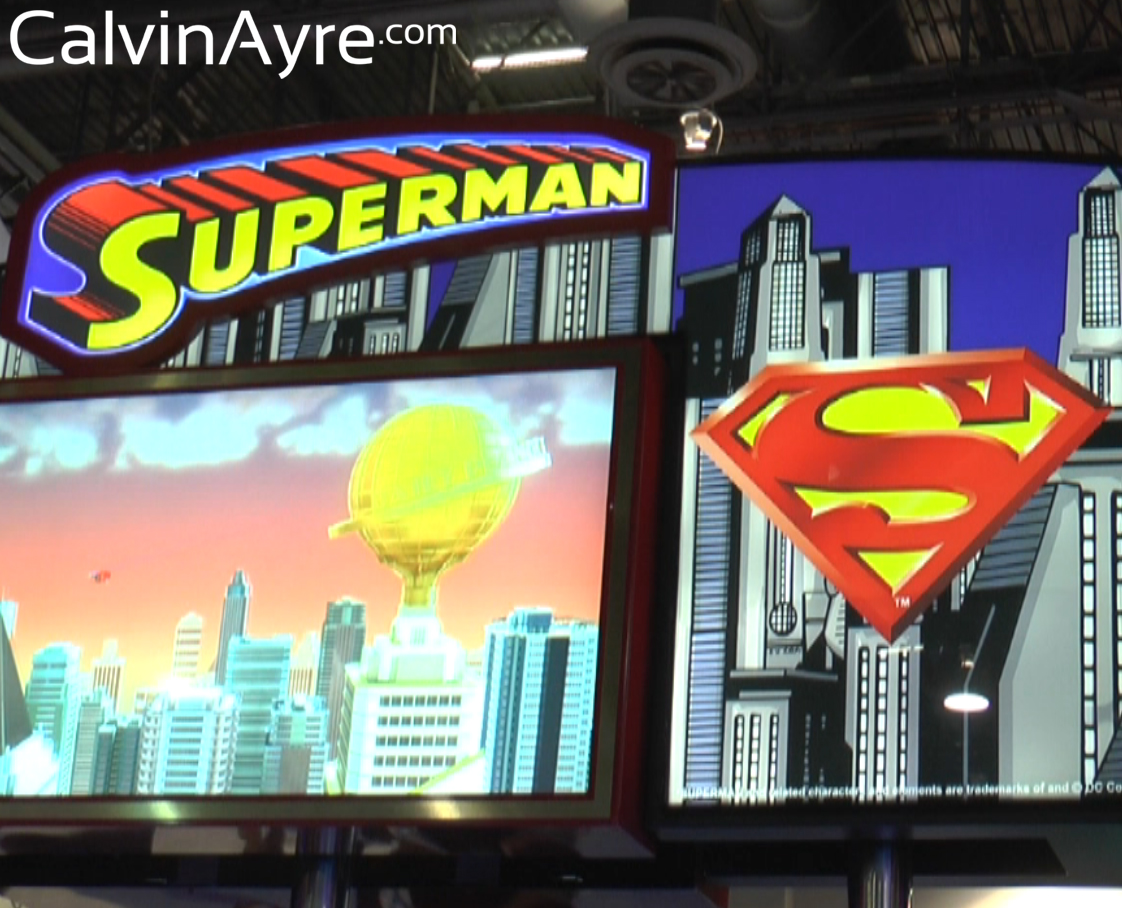 The largest exhibits in G2E's massive hall were filled by the world's largest slot machine manufacturers, including Bally Technologies, Aristocrat Technologies, and International Game Technology. The manufacturers and their designers were looking to impress casino operators and earn floor space with new games and updates on existing popular titles, and most did exactly that.
WMS Industries – soon to be bought out by Scientific Games – showed off four new titles. The company unveiled three games based on movies, two old and one new. WMS is tapping into 1980s nostalgia with games based on Beetlejuice and Ferris Bueller's Day Off, while also tying into a more modern series with its Iron Man game. The latter game was the most impressive of the three; the dual-machine setup was flanked by nearly life-sized Iron Man statues, with an impressive high-definition elongated screen for gameplay. But the company's most impressive game was Clue, based (apparently) on the board game, not the movie (a 1980s-era classic of its own). Clue is played entirely on a touchscreen – the only such game on display yesterday. The screen is a long slanted piece of glass that is reminiscent of the top pane of a pinball machine. The colors are crisp, and the interface simple, while the game offers five different reels, several progressive jackpots, and a number of bonus features. While movie buffs may take delight in the company's cinematic ventures, Clue appeared to be the most interesting of WMS' games from a gameplay perspective, and one of the standout titles in the entire exhibit hall.
Bally's new portfolio was highlighted by the addition of another movie title, this one from the 1990s, as the company showed off slots based on the Oscar-winning film Titanic. The company also partnered with magician David Copperfield and, somewhat curiously, rock band ZZ Top, for a rather standard looking slot named ZZ Top: Live From Texas. Bally added new versions of its Michael Jackson and Grease product lines, after the company saw success with the debut versions of both games. In addition, the company's Reel Blast added to a general feel of "bigger is better" on the floor; the single-player game featured a two-person bench seat and a cabinet that appeared to be approximately 10 feet high. From a broader perspective, Bally attempted to mimic rival IGT's focus on "convergence" in the gaming industry in advertising around the exhibit and directly to attendees by exhorting operators to "connect your gaming world," creating one account for one player across multiple interfaces (both land-based and online).
Aristocrat attempted to create some buzz around its new slot game based on the hit television show The Walking Dead by hiring several zombies to walk around the conference center. The game itself looked excellent – including high-def videos featuring scenes from the show – but the advertising campaign turned a bit sour from our standpoint after the zombies attacked our defenseless reporter. Aristocrat also showed a game based on an animated Superman, and a multi-player version of old game show Let's Make A Deal.
Like Bally, Konami went oversized, showing off a line aptly named Podium Goliath in addition to Titan 360, an eight-person, circular installation with a massive bonus wheel on top that moves up and down in addition to rotating. The Titan line is certainly hard to miss on a casino floor: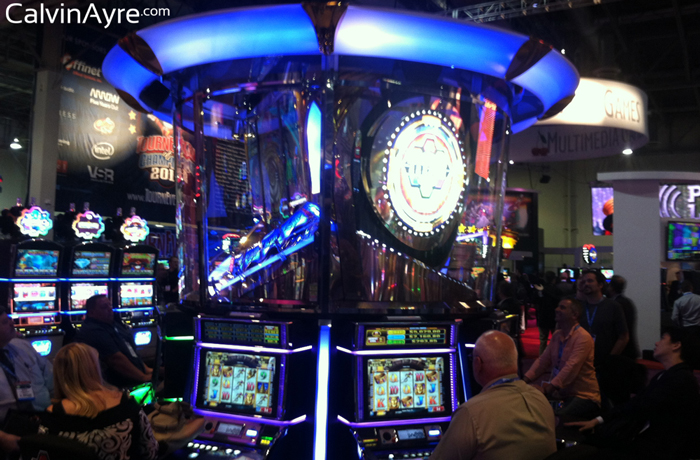 Smaller operator GTech showed off its updated multi-player version of its long-running game based on the US game show Deal Or No Deal, while Multimedia Games – one of the industry's best-performing companies of late – touted its highly successful TournEvent product line.
But the day's winner was IGT. The company unveiled its new logo, going from capital letters to lowercase and moving to a lighter shade of blue, in what CEO Patti Hart described in a morning interview on Fox Business Channel as an "edgier" look. IGT also announced a deal with Caesars Entertainment to ship 7,000 replacement video poker devices to the massive casino operator, then followed up with what was far and away the most impressive product line on the floor. The video poker line – in which IGT has long been dominant – showed a few minor, but interesting tweaks. One version, called "Split Pay Tables," allowed players to play two hands with different payouts (for example, one hand "Jacks or Better" and the other "Double Double Bonus," which offers bigger payouts for certain 4 of a kind hands while lowering payouts on lesser hands.)
IGT also showed off an existing but relatively unknown product called Texas Hold 'Em Heads Up Poker, which featured game play against – and a bit of video-taped trash-talking from – well-known pros Phil Hellmuth and Johnny Chan. The game, right now, appears better in theory than in practice, however; the interface was difficult to use and the game's process unclear for the first several hands. Interestingly, the game is a pure limit hold 'em game against a computer-controlled opponent that takes an actual rake from the hand. (Though I could not find on the machine what the rake was, it appeared similar to that taken in land-based poker rooms.) Though the game itself was not user-friendly – even for an experienced poker player – its concept is fascinating, though one wonders if an expert player can turn the game to his advantage (and the casino, and IGT's, loss).
Beyond that, IGT's line was impressive. It dipped into the movie nostalgia well itself with a new – and heavily promoted – game based on dinosaur epic Jurassic Park. The company's Wheel of Fortune line – celebrating its 30th anniversary and the most successful branded slot in history – offered updates as well, and the company added a new version of its slot based on the recent Hangover movies.
But IGT's most spectacular product – indeed, far and away the best product on the floor – was its Avatar game, unveiled Tuesday at the conference. The game offered rich color, with 3-D screens and 3-D reels that seemed almost embedded in the display. While the cabinet used standard buttons for gameplay, a number of features were accessed through touchscreen apps situated around the reels.
And what a number of features it was; IGT appeared to take concepts from social gaming and add them to the Avatar game in an effort to create game loyalty and repeat business. Players receive Experience Points; the game tracks a massive list of potential achievements (similar to the 'badges' often received in social games), such as reaching bonuses or hitting a 10x or 20x payout on a single spin. A "Timeline" feature tracks a player's progress in the game – adding the video-game-type thrill of completing missions to the standard win-loss calculations of the slot player. Similarly, long stretches of play would "unlock" certain features: new characters, new music, and new background to the game. Avatar was the most innovative game on the floor, bar none, and it could quickly become one of the industry's most popular games.
(In a somewhat ironic twist, I was taking notes while playing the demo version of the game when I was interrupted by an IGT security guard? "Are you from Bally?" he asked, seeming to suspect me of corporate espionage. I replied no, told him I worked for CalvinAyre.com, a gambling news website, and he seemed satisfied and walked away. Fortunately, he hasn't read my previous work.)
Comments