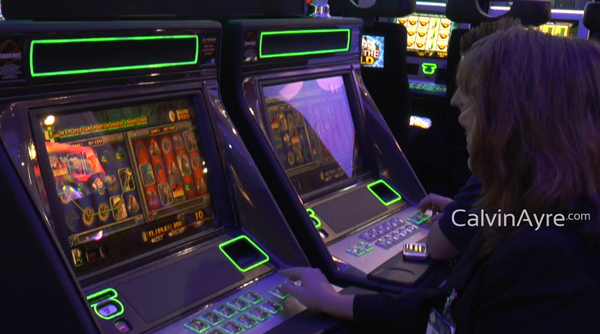 The Global Gaming Expo kicked off on Tuesday with a typically jam-packed slate of speakers, exhibits, and meetings. Sessions on some 12 tracks, ranging from casino design to security and surveillence to finance, were held all day throughout the cavernous Sands Expo Center in Las Vegas.
Our talented correspondent Becky Liggero is posting video reports from the conference throughout the week, while I'll be augmenting her coverage with recaps of notable and interesting events from each day. Among the highlights of Day 1:
Asia
The biggest market in the gambling world took center stage in the final session of Tuesday's "Global Market Forum." Moderator Ben Lee of IGamiX Management & Consulting opened by noting Macau's dominance of gambling revenue, with 2013 revenues projected at over six times those seen on the Las Vegas Strip. Amazingly, $40 billion in revenue is estimated to be generated this year, from just 35 casinos and a population of 500,000 including 100,000 foreign workers.
But Lee pointed out that all of Asia was a "growth hotspot," with significant numbers of locations in minor countries such as Cambodia, Vietnam, and Thailand. Lee would ask Ed Bowers, senior vice president at MGM Resorts and Entertainment, if US companies could enter some of these newer growth markets (adding to the list the Phillipines and Myanmar), or if the "baggage" of regulatory requirements might dissuade those companies from entering the less mature and less regulated growth markets in Asia. Bowers seemed to choose the latter, noting that US companies remained "relatively conservative when it comes to entering new markets" (cue rival Gary Loveman nodding his head sadly), largely making decisions on the "perception of risk as opposed to the actual risk." At the end of the session, Lee asked Bowers if that regulatory "baggage" might wind up one day prompting a US country to simply cede the low-growth, lower-margin US market and concentrate its focus on the higher-profit, less-regulated Asian market. Bowers responded, "I can't answer that question," but nearly proceeded to do so. "You just have to look at the income statements," he went on to say, pointing out the massive revenue and profit discrepancy between Asia and the US seen for companies such as MGM, Las Vegas Sands, and Wynn Resorts. "Ultimately, a business decision would get made." But Bowers also emphasized he didn't think such a decision would ever need to be made, pointing out that US-based companies preferred strong regulation to weaker regimes.
Lee quizzed panelist Takashi Kiso, CEO of the International Casino Institute, about the new rumors about potential casino legalization in Japan in the wake of the country's winning bid for the 2020 Summer Olympics. Lee half-jokingly called the intense interest in the country a "lovefest," before asking Kiso, "Is it real this time?", referring to the multi-year hopes for integrated resorts in Japan.
Kiso was non-commital, noting there were "lots of rumors" and "a good environment" for political action to allow for the construction of integrated resorts. (Kiso would later explain that any potential gambling movement had been essentially blocked by gridlock in the Japanese government amid split control of the upper and lower houses of the legislature. US iGaming advocates can certainly symphathize.) But the ICI CEO also said he didn't believe anything would happen this year; rather, he compared Japan to Singapore in 2004, as in both cases the company's leadership had promised only to "discuss" the issue. While Singapore has obviously moved forward in developing gambling resorts, Kiso seemed less certain that Japan would follow suit.
His near-term pessimism was repeated later in the session, as he questioned the oft-floated idea that Japan would want to begin development of those integrated resorts in the near future, in order to have them up and running when tourism exploded in the summer of 2020. With construction labor and materials still being used to rebuild after the 2011 tsunami, and massive stadiums and infrastructure needed to support the 2020 Olympics, Kiso expressed real concern that the addition of multiple billion-dollar integrated developments would create "competition for scarce resources" and inflate labor and materials costs. As such, he appeared to be counseling patience, if not skepticism, toward the newest round of Japan rumors.
One country moving forward with integrated resorts is the Phillipines. Jorge Sarmiento, president and chief operating officer of operator/regulator PACGOR, noted his country's plans to bring one integrated resort online each year from 2013 to 2016. Lee teased Sarmiento about that company's own "lovefest," noting that it had peaked and the market's optimism had moved on toward Japan, leaving the Phillipines somewhat underappreciated. Was there room for more growth in the country? Lee asked. Sarmiento appeared to argue that there was, noting that the regulator had been "a little bit conservative" with licenses.
MGM's Bowers appeared to disagree, albeit politely. He told Lee he had to see "how things play out," though his prediction did not seem very optimistic. He called PACGOR's plan "very ambitious," noting that revenues in the country were on the "low side" relative to the market size, meaning that the new resorts needed to attract international visitors to reach projections. Yet that international visitation could be stifled by gridlock in Manila and other "infrastructure challenges," as Bowers termed it. Indeed, Bowers, all told, was rather bearish on most new markets for MGM; in the early part of the session he noted the company's focus on political and regulatory risk, later adding that the only thing that "would move the needle" on the company's rising share price at this point were billion-dollar projects. "I can count on one, maybe two hands" how many markets qualify for those type of integrated developments, he pointed out. With MGM steadily repairing its balance sheet, that caution might be warranted, and certainly should be of comfort to MGM shareholders.
Bowers wasn't the only one. Other Asian markets were largely dismissed by the panel. A questioner asked about Vietnam; Bowers replied that the country's government had largely botched the development process. "Clarity is the most important thing in the processes," he explained, adding that companies simply needed to know what their costs were before making decisions, and would pull out if that information wasn't clear. Lee pointed out that a new draft gaming decree put in a reasonable effective tax rate of about 13 percent, but agreed with Bowers in pointing out that Vietnam was making only "little steps" toward regulation. Australia was deemed too mature, and too far from Asian VIPs to create growth. Sri Lanka was too small, and its potential for growth from its neighbor in India overrated, according to Lee.
Lee indeed argued that India was a basically overrated market, despite its population of over 1.2 billion people. He told listeners that when he was an executive at the Venetian Macao, the hotel hosted Bollywood events that brought in substantial numbers of Indian tourists. When he asked his employees how much they spent on gambling, the answer was simple: "almost zero." Were they receving free play and promotional offers? Yes, came the reply; they still weren't gambling.
That story seemed up to sum up the two afternoon sessions on overseas gambling. There is so much promise, and so much potential in so many places; yet there are so many roadblocks en route to reaching that potential. It's why the gambling industry is so fascinating, and why G2E is so important.