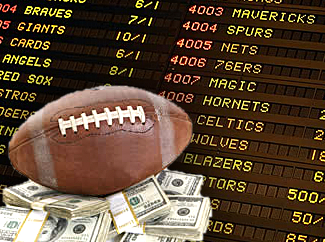 The sports betting scene in Las Vegas has jumped into overdrive now that the NFL season has officially kicked off. You only need to hop to one sportsbook after another to see that business is robust these days. Sometimes, you might even run into an odds maker in one of those places, an opportunity that you should not doubt take advantage of. But if you're not to keen on chatting up these folks, the beauty of a social media site like Twitter will give you a chance to interact with these odds makers.
Granted, don't expect them to follow you, but at least you get to see where their heads are at when it comes to the betting side of big sporting events like the NFL. Below, you'll find a list of odds makers and sharp bettors that are considered as must-follows on Twitter.
Jay Kornegay (@JayKornegay)
Twitter Followers: 7,445
If there's one Vegas odds maker that you must follow, it's Jay Kornegay. As arguably one of the most famous odds makers in Las Vegas, Kornegay has earned that reputation in large part because of his years of experience serving as the director of the LVH Superbook. His on Twitter a great deal and often times shares his opinions on how betting trends are affecting the lines.
Jimmy Vaccaro (@JimmyVaccaro)
Twitter Followers: 7,280
Widely regarded as the most legendary odds maker in the history of Las Vegas, Jimmy Vaccaro is an icon in the business, having spent the past 38 years in the business with seemingly no plans of slowing down anytime soon. Vaccaro was recently hired to run South Point's Race and Sports marketing division, and it figures that even at his age, Vaccaro's skills as one of Vegas' iconic odds makers is still as sharp as it was back in the 70's.
RJ Bell (@RJinVegas)
Twitter Followers: 53,868
RJ Bell knows the sports betting scene in Las Vegas better than anybody else. The founder of Pregame.com has parlayed his experience in the Vegas sports betting scene with more mainstream jobs as an ESPN radio host and a columnist for Grantland.com. He often tweets opinions on big sporting lines, particularly on the NFL. Follow him, give him a shout out, and there's a good chance that he'll reply to you in kind.
Todd Fuhrman (@ToddFuhrman)
Twitter Followers: 29,953
Todd Fuhrman's credentials as an odds maker is undoubtedly sparkling. As the former odds maker at Caesars Palace, Fuhrman has since moved on to become an analyst at @DonBestSports, as well as a columnist at OutkicktheCoverage.com. Oh, and he's also made good use of his experience as an odds maker by setting up his own website, Toddstake.com. Fuhrman has the credentials and judging by his Twitter followers, a lot of people seem to hold him in high regard.
Dave Tuley (@ViewfromVegas)
Twitter Followers: 15,104
Dave Tuley isn't technically an odds maker but he could definitely play the part of one thanks to his expansive knowledge of the Vegas sports betting scene. His Twitter handle pretty much says it all and in addition to his website, ViewFromVegas.com, Tuley also spends his time writing for ESPN Insider where he discusses handicapping contests while throwing in the occasional pick or two.
Joe Fortenbaugh (@JoeFortenbaugh)
Twitter Followers: 10,973
Joe Fortenbaugh isn't exactly a Vegas odds maker. But if you're a regular reader of the National Football Post, you'll immediately recognize Fortenbaugh for his Vegas Hotline column. He's close to the scene as a resident of Las Vegas and he's completely dialed-in into anything and everything that has to do with NFL betting. If you're lucky, Fortenbaugh will throw in some value bets on his Twitter feed in addition to sharing his opinions on line movements in the NFL.
Chad Millman (@chadmillman)
Twitter Followers: 44,731
Chad Millman isn't called ESPN's resident "sports betting guy" for nothing. While his current job as editor-in-chief of ESPN the Magazine has kept him from tweeting out betting nuggets of wisdom, Millman still has his Behind the Bets podcast on ESPN, allowing him to discuss anything and everything regarding sports betting news, including trends, public picks, and where the sharp money is at.
Comments