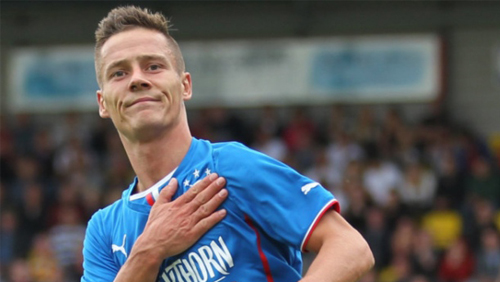 British football has been hit with yet another sports betting scandal, this time north of the border. Glasgow Rangers midfielder, Ian Black, is the latest player to be accused of breaching football regulations in the wake of the scandals involving Tottenham Hotspur winger Andros Townsend, Stoke City forward Cameron Jerome and Accrington Stanley Managing Director Robert Heys.
But whereas Townsend and Jerome were charged with betting on matches they were not involved in, it seems that the water Black is soon to be plunged in will be a whole lot warmer, as it is alleged that he has placed bets involving sides he has played for, including backing his own team to lose.
The Ibrox Club have launched an immediate investigation after Black was accused of laying teams he was appearing for in matches on three separate occasions over a nine year period. In addition he is also accused of placing a further 10 bets in games that involved the team he was playing for at the time of the bet. Finally, there are a further 147 allegations of him placing bets on games that he was not involved in, an act that still breaches the rules of the Scottish Football Association (SFA).
It's believed that Black made the bets between March 4 2006 – July 28 2013 and during that time he has appeared for Inverness, Hearts and Rangers. The allegations came to light after Ladbrokes tipped off the SFA in connection with an agreement the governing body has with the betting industry, in a bid to maintain the integrity of British professional football.
The SFA have been keen to stress that despite the allegations facing Black, he is not being accused of alleged 'match fixing'. He will now face a hearing at Hampden on Sep 12 and has until close of play Monday to respond to the SFA.
Cameron and Heys Receive Their Punishment
If Black wants an inkling of what the SFA has in store for him then he just needs to look south of the border and mutliply it somewhat. Accrington Stanley Managing Director, Robert Heys, has been suspended from football for 21-months, and fined £1,000, after being found guilty of breaching the governing bodies rules 735 times. Of those 735 bets, 231 involved his team and on 37 occasions he made bets that they would lose. Heys is set to appeal against the decision.
Stoke Striker Jerome was fined £50,000 for breaching FA betting regulations, but received no ban, which was in stark contrast to Andros Townsend who received an £18,000 fine and four month ban. It seems the consistency of the FA is very similar to the consistency of the officials who take charge of the these games.
Comments