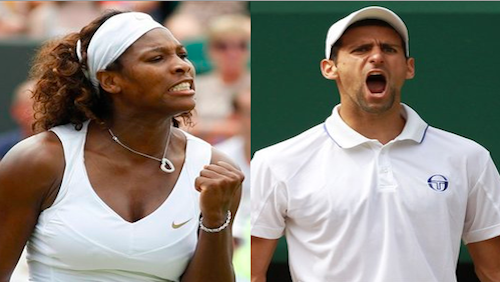 If Wimbledon taught us anything this year, it's that the unexpected has returned to the sport of tennis. Chaos and confusion reigned at the All-England Club back in June with the early exits – be it through losses or outright retirement  – of a lot of the favorites becoming as big of a headline as the Andy Murray ending the British drought at Wimbledon.
And now that the US Open is only a few days away from starting, expectations for another wild Grand Slam tournament are pretty high, so much so that you might see some surprising lines attributed to some of the contenders leading up the tournament.
Over on the men's side, there are a lot of surprising lines that should serve caution on the unpredictability of the tournament this year. World number 1 Novak Djokovic has been penciled in as the favorite to win the tournament at a pretty low 2/1 line.
Just below Djokovic is French Open champ Rafael Nadal at 5/2 followed by defending US open champ and recently crowned Wimbledon winner Andy Murray at 11/4. We figured that Murray would have a lower line than this considering that he's defending his title and he's been on some kind of Grand Slam run this year.
But the biggest surprise on the men's side is Roger Federer. The former undisputed king of tennis sits as the fifth favorite to win the US Open at 15/1, a higher line than Juan Martin del Potro at 10/1. Never did we imagine King Roger to have this high a line on a Grand Slam, but it's indicative of the kind of season he's had and how much world-class tennis he still has on those 32-year old legs.
From there, it's a long list of dark horses, including Tomas Berdych (28/1), John Isner (50/1), David Ferrer (50/1), Jerzy Janowicz (66/1), and Milos Raonic (66/1).
The women's side is a little more straight-forward, more so now with the unexpected withdrawal of Maria Sharapova due to a shoulder injury. To no one's surprise, Serena Williams is the odds-on favorite to defend her US Open crown with a 5/6 line. Her biggest competitor now that Sharapova's out is Victoria Azarenka who not only enters the tournament with a 4/1 line to win the title but also has the benefit of having beaten Williams in the finals of the recently-concluded Western & Southern Open.
As far as the rest of the competition, Agnieszka Radwanska co-headilnes the rest of the pack at 20/1, a line she shares  with Li Na, Sam Stosur, and Petra Kvitova. Former world number 1 Caroline Wozniacki sits at 33/1, followed by Sloane Stephens and Wimbledon finalist Sabine Lisicki, both of whom received 40/1 odds to win the tournament.
Comments