Bitcoin enthusiasts, and aficionados, are today learning that Bitcoin wallets on Android are vulnerable to theft, because of an issue with a component that generates secure random numbers (I can hear the sigh of, 'why can't we just own something that works,' a million miles away).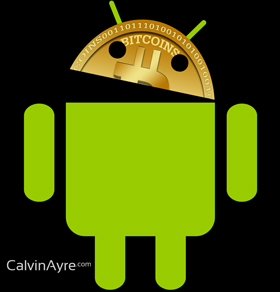 It's believed that the problem lies with the Android operating system and not the wallets that are in danger of being plundered. Those affected by the potential hole in security include Bitcoin wallet, Blockchain.info, Bitcoin Spinner and Mycelium Wallet.
The one thing these all have in common is you don't have to control the private keys. This means exchange frontends like the Coinbase or Mt Gox apps are not affected by this issue because the private numbers aren't created by the Android operating system
Fortunately, it would seem the potential for thieving has been spotted before anybody has had a chance to don a mask and grab a bag marked 'SWAG'. This has allowed the developers to update their wallets to ensure that the potential breaches in security are sealed tightly shut.
Updates are being prepared for Bitcoin Wallet, Mycelium wallet and Blockchain.info. Users of Bitcoin Spinner are being advised to upgrade to Mycelium Wallet as both apps are from the same developer. It seems software developer Mike Hearn was the man responsible for reported the potential issue.
"All private keys generated on Android phones/tablets are weak and some signatures have been observed to have colliding R-values, allowing the private key to be solved and money to be stolen," said Hearn.
Regulators Issue Subpoenas to Bitcoin Users
Just days after Trendon Shavers, of Bitcoin Savings & Trust, challenged the Securities and Exchange Commission's ruling that he was operating a ponzi scheme, by explaining that Bitcoin investments don't fall under any US regulation, New York's top banking regulator has issued subpoenas to approx. two dozen companies with Bitcoin connections in a bid to start discussions with a view to creating regulation.
In that Shavers case, U.S Magistrate Judge Amos L. Mazzant, in the Eastern District of Texas, ruled that Bitcoin investments do fall under the definition of an investment contract, and since acquiring a Bitcoin means you have to part with money, it should be treated as a currency, or form of money, and as such needs regulating.
It seems the New York Department of Financial Services agree, as the subpoenas are designed to extract information about Bitcoins from some of the main players in the business.
"We believe that—for a number of reasons—putting in place appropriate regulatory safeguards for virtual currencies will be beneficial to the long-term strength of the virtual-currency industry," wrote department head Benjamin Lawsky in a draft of the memo reviewed by The Wall Street Journal.
Amongst the people who received a subpoena include the Winklevoss twins, Cameron and Tyler, who achieved notoriety when they claimed Mark Zuckerberg stole their idea for Facebook.
Coinsetter is another company that has received a subpoena, and the CEO, Jaron Lukasiewicz thinks it's a good thing after stating to the Wall Street Journal in an e-mail that the request for information is "an opportunity for companies in our space to open up a much needed dialogue with regulators." He also added, "They'll quickly find that most companies are working to legitimize Bitcoin and want to build bridges that help regulators understand and support these financial innovations."
Bitcoins a Tax Haven?
In an article in Politico, Lauren French, has gone to print to suggest that virtual currencies like Bitcoins and Litecoins could be the tax havens of the future. Once again the assertion is based on the unregulation of the virtual currency therefore making it increasingly difficult for those fighting against tax evasion to keep a strong handle on it.
"It has the potential to become a real problem for tax collectors because Bitcoins have all the traditional advantages of tax havens," Omri Marian, a professor at the University of Florida Levin College of Law, told Politico. "But unlike traditional tax havens, … the operation of Bitcoins is not dependent on the existence of financial intermediaries such as banks."
But when it comes to tax evasion is there any real difference to the obvious fraudulent opportunities that exist when dealing with cash and the future use of a virtual currency?
The Bitcoin drums just keep on booming.
Comments