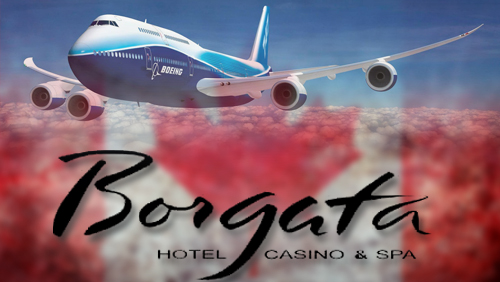 The Borgata Hotel Casino & Spa has long been the market leader when it comes to gambling in Atlantic City. In the years that it has provided Vegas-style comfort in the Northeast, the casino has attracted a wide variety of gamblers to its casino, including the young and wealthy types from Canada. Part of the package in bringing in these gamblers is the allure of complimentary flights, a perk that Borgata now finds itself defending after incurring a $25,000 fine for operating an unlicensed airline in Canada.
According to the National Post, Borgata is calling for a review of the fine (it was eventually cut in half after the casino won an appeal) in the Federal Court of Canada on whether it broke any rules in the first place. Borgata is contending that these free flights have been going on in the casino industry for years as a way to entice affluent gamblers to come to its casinos. During its 2010 appeal that resulted in the $25,000 being cut in half, the casino maintained its position that these flights are not advertised to the public and only a small percentage of its clients, estimated at "one-tenth of one percent", are offered this perk. That reason was apparently enough for the appeal tribunal to make that decision, saying that "the fact that the applicant's casino is open to all does not mean every person who visits the casino has a reasonable expectation of being able to arrange free flights."
The Canadian Transportation Agency didn't see it that way, though, and from 2008 to 2009, the agency tracked the flights of Borgata's twin-engine corporate jets and deemed that these planes were acting as airlines despite not carrying any airline license of any sort.
Steven Norton, a veteran of the resort casino business, told the National Post that what Borgata has been doing is nothing out of the ordinary, saying that tactics like this have been around the industry for 'maybe 80 years'. "They are going out to find new business and the wealthy markets of Toronto and Montreal are enviable markets," Norton added.
"It is not unusual to do what you can to bring in well-heeled gamblers."
With the state of gambling in Atlantic City these days, it's become more imperative for a casino like Borgata to do all it can to bring in these high-rollers and that includes providing complimentary flights to its resort and casino. It already won its appeal to have the fine cut in half, but the company remains resolved in its belief that it's not doing anything that can be construed as illegal.
After winning a fresh review from the Federal Court of Canada on the matter, Borgata has a chance to prove that its fly-for-free-and-gambler-in-our-casino approach is on the up-and-up.
Comments