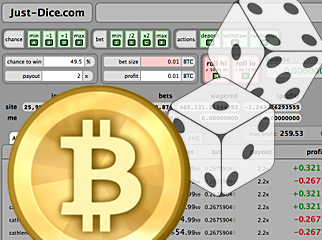 Bitcoin betting site Just-Dice.com experienced a major hiccup this week after one of the site's 'whale' gamblers was allowed to free-roll with ฿1,300 (approx. US $120k). On Monday (15), the site owner – who goes by the online handle 'Dooglus' – revealed to the BitcoinTalk forum that a Just-Dice betting 'whale' known as 'Celeste' had requested a ฿1,300 withdrawal of his online winnings from the site, which operates off the Bitcoin block-chain. Dooglas manually authorized Celeste's withdrawal, then promptly forgot to make the necessary adjustment to Celeste's account balance. This phantom balance in Celeste's account was then wagered and lost, leaving Just-Dice's house account up some ฿1,300 that didn't actually exist.
Dooglus subsequently reported that Celeste "claims he didn't lose the coins, but that he left his laptop in a cafe, with a copy of his google-auth code on it, and someone else scanned the code, logged in as him, and lost the balance using a betting pattern very similar to the whale himself." Dooglus said he'd "asked for the 1300 back, because [Celese] always seemed like a good man in chat. He logged off."
During a live chat with Just-Dice's other investors, Dooglus suggested "this is the point where I'm meant to shut down and run with the cold wallet, right?" But Dooglus immediately declared that scenario was "not going to happen." Originally, Dooglus decided to make up the difference from his own Bitcoin holdings, but after consulting with Just-Dice investors, Dooglus chose to roll back the free-roll bets, which eliminated the profits site investors thought they'd made on those wagers. Or, as Dooglus put it: "there was no loss to 'take'. Some fake coins moved from one account into other accounts. I just moved them back. No BTC was withdrawn from the site, so there is no loss, and no need for anyone to be out of pocket."
Dooglus subsequently told CoinDesk that the response from the Just-Dice community had been "supportive,' which allowed him to "turn this into a non-event," although he acknowledged that some users had chosen to leave the site on "concerns regarding future challenges and my ability to deal with them."
Just-Dice launched on June 20, but has already handled 31m wagers worth some ฿430k (approx. $40m). Users can choose to become investors in the site, which operates with a 1% house edge on a simple high-low roll of the dice. Bets are visible in real-time, offering spectators a front-row seat to watch whales like Celeste – who has since returned to betting on the site – attempt to (fairly) beat the system. The biggest single (losing) wager to date was a hefty ฿640 (over $60k at today's exchange rate).
The owners of pioneering Bitcoin wagering site SatoshiDice announced earlier this week that the site had been sold to an unnamed buyer for ฿126,315 ($11.5m). Dooglus claims to have received offers for his own site, but said he's "made it clear that I am not interested at this time."