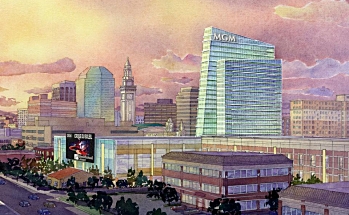 To the casino operators that are still vying to secure a casino license in Massachusetts, they might want to adhere to the words of Massachusetts Gaming Commission chairman Stephen P. Crosby if they want to get the attention of the commission.
Upon the release of a 236-page application for potential developers of three casino resorts and one slot parlor in the state , chairman Crosby has made it known that "the wow factor" will be a critical component on what direction the five-member commission is going to take once it starts doling out licenses sometime in late March or early April next year.
Crosby explains that the "wow factor" is an operator's way of differentiating itself from its competitors and how it can attract customers, not just from within the state, but also from other states, as well as the kind of culture it will have, the racial diversity of the hiring process, and the kind of goods and services it will offer to the public.
At the crux of the application, though, are five important qualities these integrated resort casinos are compelled to present to the commission. "Those are basics," Crosby said, referring to building and site design, finance, mitigation, economic development and the aforementioned "the wow factor".
According to Crosby, operators must also pay careful attention to the physical nature and quality of the facilities in question and how it can attract employment and generate enough revenue for both them and the state to make the whole partnership stand out.
Each of the applicants have to meet a pre-determined deadline to submit their respective applications. For the three casino slots in the state, the deadline for those applications has been pinned down for Dec. 31 with the deadline for the slots parlor bidders scheduled  on October 4.
For now, the commission is right in the middle of working through the bids from the first phase of the application process, including holding background checks on all the resort casinos that are still vying for their respective choice of license. As soon as company's pass their background checks, they can now move on to the second phase of the application, which will include, among the already mentioned, detailed development proposals for the projects they want to construct.
Comments