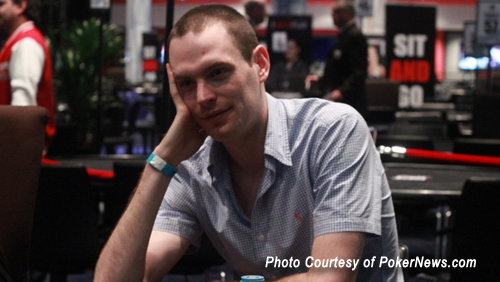 Devilfish, Deeb, Bansi and Gardner all crash and burn as Pete Linton leads the final six players at the inaugural ISPT at Wembley.
This poker quill is deadly, and it needs only a few drops of ink to cause devastation. Yesterday, I wrote with some confidence that the charge of the old school brigade was going to prove fruitful, and then I sat back and watched as one by one they were eliminated as the final table drew ever closer.
Two-time World Series of Poker (WSOP) champion, Praz Bansi, was the first to go. He moved all-in from the button holding pocket queens and Florian Hoeller called in the small blind with [As] [Th], before proceeding to turn a straight. Dave 'Devilfish' Ulliot was the next player eliminated. Julian Gardner moving all-in from the cutoff holding [Ah] [8s], Devilfish called with [Kd] [Jd] on the button and ace high was good on showdown. Those two exits handed the Fish and Bansi the consolation of €14,000 in prize money and that's exactly how much Freddy Deeb would receive after being eliminated by Jerome Brion. Deeb moved all-in with [Kd] [9d] and was called in two spots by Brion and Jean Miguel Lacerda. The pair checked it down and Brion won the hand with pocket eights.
With just 12-players remaining the only member of the old school brigade left in pursuit of the million was Julian Gardner, but he would also leave the party as our final table bubble boy. Pete Linton opened the small blind and Gardner called in the big. The flop was [Th] [Ts] [9h], Linton bet 240,000, Gardner raised to 550,000, Linton put Gardner all-in and the 2002 WSOP Main Event runner-up made the call. It was [Td] [5d] for Gardner and [As] [8s] for Linton. Gardner with trips tens and Linton left hoping for the deck to help him out, which it did when consecutive spades sent Gardner crashing out in ninth place for €26,520.
So the final table is set and it's a shame that the International Stadiums Poker Tour (ISPT), and Dusk till Dawn (DTD), don't get a superstar name to showcase around the world on the live stream, but it will be an interesting and exciting prospect nonetheless.
Final Table
Pete Linton – 11,070,000
Alban Juen – 7,615,000
Nick Hicks – 6,230,000
Gwendoline Janot – 5,880,000
Jakub Michalak – 4,825,000
Xavier el Fassy – 4,555,000