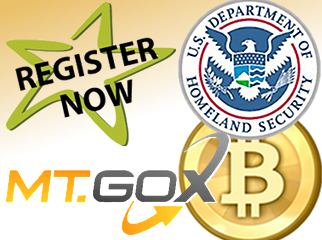 The US Department of Homeland Security's seizure of funds belonging to a US subsidiary of Tokyo-based Bitcoin exchange Mt. Gox was based on the feds' assertion that the subsidiary had failed to register as a money transmitting business. On Tuesday, a warrant was filed in Maryland's District Court authorizing the seizure of funds held in an account registered to Mutum Sigillum LLC, a subsidiary of Mt. Gox set up to enable Bitcoin transactions with customers of Dwolla, an Iowa-based online payment processor.
According to the warrant, when Mutum Sigillum opened an account with Wells Fargo Bank in 2011, the sole authorized signer was Mark Karpeles, identified in the warrant as owner of both Mutum Sigillum and Mt. Gox. In filling out the forms to open the account, Karpeles answered 'no' to questions on whether the account would be used for purposes of money transmission or currency exchanges.
In March, the Treasury Department's Financial Crimes Enforcement Network (FinCEN) publicly stated its intention to treat Bitcoin exchanges as money services businesses, meaning they had to register themselves as such. The warrant states that by May 6, neither Mt. Gox nor Mutum Sigillum had thus registered with FinCEN. It remains to be seen what criminal charges may be laid against Karpeles but the chief beneficiary of this week's action will likely be Coinbase, the US-based Bitcoin wallet that has registered with FinCEN.
The fact that the action against the Bitcoin firm originated in Maryland – where federal law enforcement officials have not been shy about going after US-facing online gambling sites – led to suspicions that this might have been a preemptive strike against any major US-facing operator employing Bitcoin as a way of getting around the crackdown on traditional online payment processing.
While the seizure warrant makes no reference to gambling, Dwolla's link to Mt. Gox had been an increasingly popular method – far easier than obtaining an international bank wire – by which US residents obtained Bitcoins from the world's largest exchange. The fact that this particular avenue has now been closed may not have an immediate impact on Bitcoin online gambling sites, but this is not likely to be the last time federal government agencies attempt to tighten their grip on Americans' use of non-fiat currencies.