The second day of the Online Bingo Summit took place in London at The Regents Park Marriott with a noticeably thinner audience than day one, but not unexpected for those of us who attend conferences on a regular basis.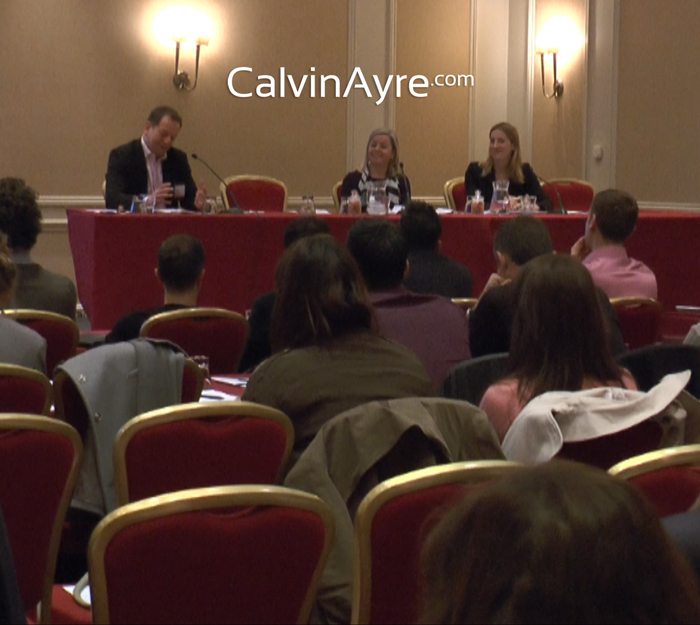 Over the past two days we saw mostly online bingo operators in the audience accompanied by a smaller number of suppliers, affiliates and lawyers.  Social gaming related discussion and questions were predictably popular and online bingo brand Tombola is on the top of everyone's list due to the friendliness of the site, the choices of games and the uniqueness of those games.  Tombola is "a step above the rest", as mentioned in today's Building Brand Differentiation Panel.
Other topics covered in the brand differentiation panel included the TV advertising market, how to decipher what players really want and how to handle social media. Oonah Flanagan of Paddy Power made the point that bingo operators must go beyond just advertising on TV.  She said, "The TV market for bingo is noisy" and companies must leverage the TV exposure with social as well otherwise they will become lost in the shuffle.
Flanagan continued to explain that Paddy Power Bingo takes great pride in deciphering what their players actually want rather than making decisions based on the raw noise of social media and customer service.  If players ask for free things or bonuses, they want value for money and Paddy Power reacts by explaining how they will get value for their money- its about getting to the core of what's important to these players.
For Paddy Power Bingo, going above and beyond to find out what their players actually want is commonplace.  Rather than simply monitoring the chat rooms, Paddy Power takes a cross section of their VIP players, visits them at their homes to get some insight into their lives and how they integrate online bingo into their daily life.  "If you have the cash to do it, get out there and get into their homes, " Flanagan said.
Communicating with players via social media is an area of challenge but an important one to master for online bingo operators.  According to Irina Cornides of Costa Bingo, a way to differentiate your brand from others is by mastering how to respond to players who interact with the brand's Facebook and Twitter accounts.  Flanagan added that Paddy Power strives to engage their 60k+ Facebook fans in a way that they enjoy.  For example, originally Flanagan's team thought pictures of half naked men would do the trick for their predominantly female fan base, but discovered that pictures of fluffy animals are what they would rather see and share.  "Its about engagement first and conversion second", Flanagan said.
During the offline to online panel we learned that taking online customers for "a night out" to the bingo hall is something that both Claire Osborne of Mecca Bingo and Chris Drake of Praesape view as an effective marketing tool for their online customers. The drill is that online players are literally bussed to the bingo hall hosted by the chat moderators they know and love, they play live bingo with their peers and then post about it the next day on Facebook.  At the same time, the General Managers of the bingo halls are happy to have new customers and if these customers have a good experience, they will likely come back.
Two challenges for bingo brands that make the bridge between online and retail is streamlining customer service and recreating the retail experience online.  The issue with seamless customer service is that the land based bingo halls do not have access to online accounts.  Therefore, onsite CS is unable to help on the spot if online players of the same brand drop by with a question or complaint.  Mecca's current workaround for this limitation is to provide a dedicated hotline into the online site's CS from the land based facility.
Additionally, in a land based bingo hall, its much easier to personalize the experience for the customer, to the point where the staff know the customers by name.  The ticket is trying to recreate this personalized retail experience online, something that both Mecca and Praesape are already working on ways to achieve.
Comments