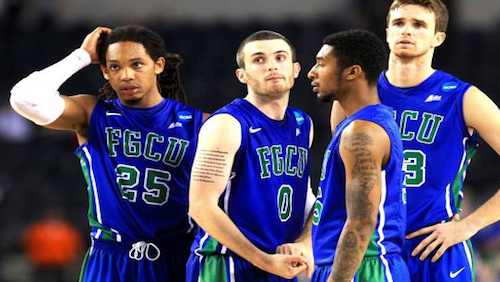 Florida Gulf Coast University's NCAA tournament run was really one for the ages. As the first 15 seed to ever make it to the Sweet 16, it was the ultimate Cinderella team that captivated millions of people who wanted nothing more than the little upstart from Florida to take down the giants of college basketball.
It would've been – without question – the single most improbable NCAA champion had FGCU somehow won it all. It also would've been quite a story, one where a Disney movie isn't so much a question of if it's going to be made as opposed to when it was going to be made.
But while most people would've wanted to see that kind of ending, Las Vegas sports books don't appear to mind that FGCU is no longer in the tournament. Because if it still were and it somehow managed to win the NCAA championship, Vegas books would be reeling from a cataclysmic beatdown.
Nobody expected FGCU to even make it this far as a 15 seed. But somehow, it did, and in the process, endeared itself to a lot of people, most of whom, presumably at least, had a lot of disposable income to put down huge swats of money on the Eagles to win the NCAA Tournament. David Purdum of Sporting News reported that public backing for the underdog Eagles had shot through the roof after the first two rounds of the tournament. Before the Sweet 16, Purdum wrote that the LVH SuperBook took so many bets on FGCU its total was almost as many as the bets placed on all 15 teams combined. And these aren't just short odds with minimal payouts; these were long shot lines ranging from 90/1 to 100/1, according to LVH oddsmaker Ed Salmons, that people were putting down good money on.
So with those odds combined with the sheer volume of bets being put on FGCU to win the NCAA tournament, you could understand why a lot of books, including the LVH, were sweating those long shot futures with so much money tied to them. Ultimately, it was all for naught because 3 seed Florida easily dispatched FGCU in the Sweet 16, resulting in a significant chunk of winnings for the books.
But the real humdinger in this was the possibility of FGCU, improbable as it was despite the stage of the tournament, actually winning the championship on odds so high – it was 5,000/1 at one point at LVH – that it would've probably caused the kind of madness amongst Vegas sports books that the tournament itself has become famous for.