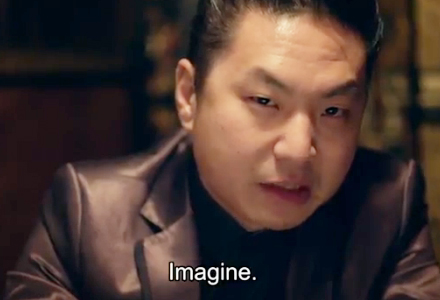 With Cheltenham Festival all but a distant memory the world is having funny, quirky and saucy video comedown. We're missing Henry Kelly doing the Harlem Shuffle for PaddyPower, and all of us are very definitely missing Helen Flanagan keeping us fit on behalf of Ladbrokes. So it's a nice big round of applause for Carlsberg who are keeping us entertained with another tremendous video clip, this time concentrating on poker.
The latest Carlsberg ad features a fake poker game that has been set up in the seediest and scariest of joints. Some of the players who take part contact their friends in the early hours of the morning to beg them to bring €300 to the game otherwise they won't be allowed to leave?
So how many of their friends don a superman cape for the evening?
Despite many telling them where to stick their €300, some did show up to be greeted by scary bouncers, a lot of cocks (the feathery kind), bare knuckle fighting, some dodgy under the sheet activities and a rather scary man in a lift eating something that looked scarier than him.
Check it out:
MPN Bad Beat Jackpot = €921,603
If there was ever a reason to spend some of your recreational time playing poker on the Microgaming Poker Network (MPN), then a Bad Beat Jackpot of close to €1 million is just the ticket.
The relaunch of an old idea will come with a few rule changes. Players wishing to participate in the Bad Beat Jackpot will have to 'opt-in' and will contribute towards the ever-growing nest egg. So whats's the damage? 2c for every hand is the answer, and when you consider the life-changing sum dangling from the MPN money tree I don't think you'll miss it.
The revised jackpot is also easier to hit with four of a kind twos now recognized as the new qualifying hand. A climb down from the previous four of a kind eights. If the jackpot is smashed then 10% of the money will be distributed to all players who have 'opted in' at the stakes at which the jackpot is hit. Clients working on the MPN will also be foregoing any sort of administration fee, meaning 100% of the fund will be distributed amongst the lucky players.
Head of poker at BetVictor, Andy Horne, said, "We're delighted to be able to launch the all new Bad Beat Jackpot with an industry-record breaking prize pool of over EUR920,000. Will it reach EUR1 million? Who knows! The changes mean it will be won more often and by more people now. The current Jackpot will see over EUR90,000 paid out to opted in players playing at the same stake as the winner so even if you're not at the table where it hits you can share in the good fortune and that's no bad beat!"