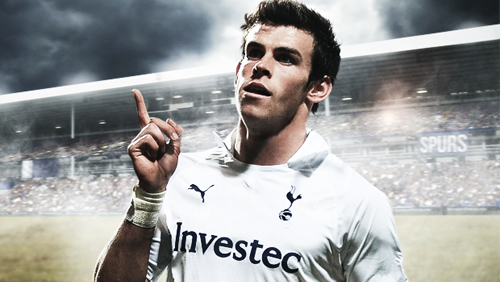 The 90th minute salvo that was launched from the left foot of Gareth Bale, and finished in the top corner of the West Ham goal yesterday, not only handed Tottenham a last gasp winner, but it also shot Gareth Bale ahead of Robin van Persie in the betting for the 2013 PFA Player of the Year.
"His precision is tremendous. When it leaves his boot it's incredible. It's down to the player he is and the ambition he has," Andre Villas-Boas told the press conference after his team continued their unbeaten run throughout 2013. A feat only matched by the league leaders Manchester United.
It was another great day for Bale as he scored twice and provided the assist for the third. He became the fifth player to score in four consecutive Premier League matches, and equaled the most goals scored in a Premier League season by a Welshman – a record he is destined to smash in due course.
"He is playing at a tremendous level this season. He is enjoying his football, not playing as a striker. When you are able to make a player feel so comfortable then things can only get better. It is down to him – his motivation – and at the end of day what the team wants to achieve, because the team is also creating a lot for him and we are fotunate he is able to make the difference," Said AVB.
The bookmakers immediately installed Bale as the favorite for the PFA Player of the Year award. An award that Bale won back on the 2010-2011 season before passing the accolade onto Robin van Persie. The Manchester United and Holland striker is currently occupying second spot in the betting.
"You have to recognize that he is having a tremendous season. He is a contender for sure," AVB commented when asked about his player's chances in the race for the PFA crown.
Bale, who had scored all four of Tottenham's goals in the last three premier league games in the build up to the West Ham match, could become only the fifth player to win the award twice. Interestingly, a fellow Welshman has a place in that elite group in the form of Mark Hughes.
"He's very special, but it also comes with confidence. The more belief you put into your actions the more certain that your goal will be scored. The fact that he has scored recently and the positions that he is getting in both have an impact." Said AVB.
Comments