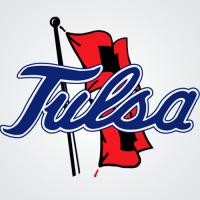 When Tulsa University placed athletic director Ross Parmley on administrative paid leave stemming from his alleged involvement with a man currently accused of running an illegal gambling operation, you could make a case that the writing was on the wall.
A week after the university made that decision, they pretty much put the writing in big, bold letters by relieving Parmley of his duties as athletic director. As for the reason behind Parmley's dismissal, Tulsa President Steadman Upham wrote in a letter to the faculty and student body of the university that Parmley didn't initially divulge the full scope of his role and involvement in the ongoing investigation, telling Upham that he wasn't personally involved in the root of the investigation.
"At that time, Ross told me that his involvement was solely due to a family connection to the person being investigated," Upham said in the letter, as quoted by the Associated Press.
"For obvious reasons, I specifically asked Ross if he had ever gambled on college or professional sports," Upham added. "He told me that friendly wagers during personal golf games constituted the extent of his betting activities. I took Ross at his word, as I had no reason to believe there had been any acts of impropriety or non-compliance."
It wasn't until last week, November 27, to be exact, that Parmley admitted to Upham the full extent of his involvement, including being linked to Teddy Mitchell, the alleged leader of an online gambling operation that's currently waiting trial. Immediately after Parmley explained his involvement, Tulsa University took the immediate step of putting him on administrative leave and at the direction of Upham, the university immediately notified the NCAA.
The root of Parmley's ignominious exit as athletic director of Tulsa University originated from his involvement with Mitchell, who is one of nine defendants named in an 81-count federal indictment for their involvement in an illegal gambling business that operated a number of supposed high stakes poker games and sports betting in Oklahoma.
Despite having his name linked to Mitchell, Parmley has not been charged in the case, and according to his attorney, Derek Chance, said was fully cooperating with investigators.
Comments