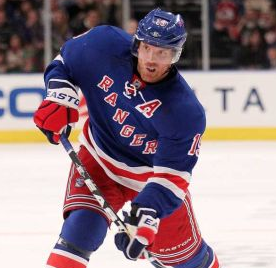 Only a few days after Caesars Atlantic City announced its partnership with Golden Boy Promotions to help in relief efforts to help all those affected by Hurricane Sandy, the casino resort is extending yet another olive branch to the less fortunate with a new charity event.
This time around, Caesars is teaming up with a slew of NHL stars led by New York Rangers star Brad Richards and Philadelphia Flyers' Scott Hartnell to bring "Operation Hat Trick",  a charity hockey game that will take place next Saturday, November 24 at the Historic Boardwalk in Atlantic City, N.J.
Seeing as the NHL is currently out of business these days, this event gives Richards, Hartnell, and the rest of the players participating in the game an opportunity to lend their support to all the families in both New York and New Jersey that were affected by Hurricane Sandy. The proceeds from the charity will go to a number of organizations, including the Empire State Relief Fund, the New Jersey Hurricane Relief Fund and the American Red Cross.
The game, at least according to Richards and all the players involved, is being treated as more than just an exhibition game. We are all overwhelmed by the damage and destruction caused to our area by Hurricane Sandy and as professional hockey players, we wanted to come together to help those who were victimized by the storm," the Rangers star center said. "While we know the road to recovery is long, we hope a hockey game featuring some of the top players in our sport will help rally additional support for the three great organizations that are committed to helping rebuild our area."
In addition to Richards and Hartnell, both of whom will serve as captains for their respective teams, "Operation Hat Trick" has also drawn the participation of a lot of NHL stars. Among the names that are already penciled in include: Bobby Ryan, Kimmo Timonen, Braydon Coburn, James van Riemsdyk, Simon Gagne, Ville Leino, Daniel Carcillo, Steve Eminger, Jeff Halpern, Brian Boyle, Jody Shelley, John Carlson, Taylor Pyatt, Steve Downie, Wayne Simmonds and James Neal.
Caesars Entertainment Eastern Division President Don Marrandino knows all too well the destructive damage Hurricane Sandy caused, not only in Atlantic City, but in the entire state of New Jersey and New York. It's for this reason why the casino is treating "Operation Hat Trick" as an important event in the region's road to recovery while also recognizing the support the NHL stars are throwing its way. "A roster of this magnitude reads as though Atlantic City is hosting the American and International All-Star hockey game of the year – all to benefit those in our region affected by Hurricane Sandy," Marrandino said.
"I applaud the efforts of difference-makers like Brad Richards and Scott Hartnell, and the rest of these hockey-world superstars, as well as our phenomenal partners like the Atlantic City Convention & Visitors Authority, Boardwalk Hall and Reebok," said Marrandino.
In case you've got nothing else to do next Saturday, throw your support and attend the exhibition game. Tickets will be sold beginning today at 10 am ET. Prices range from $20 to $100 and you can avail of the tickets at either the Boardwalk Hall Box Office, ticketmaster.com, all Ticketmaster locations, or if you prefer to do it over the phone, the number is 800-736-1420.