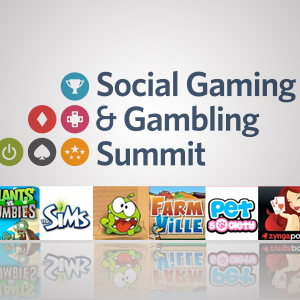 Gambling's largest growth areas collided in London today as social and mobile were the order of the day as 200 Aldersgate played host to the Social Gaming & Gambling Summit and its sibling the Smartphone & Tablet Games Summit.
The idea of the conferences was to arm attendees with the kind of insight to help them succeed in an area of the industry that is, and will continue to be, crucial in the coming years.
Organizers of the conference made sure the very best caliber of speakers were in attendance and started off with someone from the company in social media, as Owen O'Donoghue from Facebook took to the stage. An interesting thing to take was the sheer power of Facebook for gaming companies with O'Donoghue telling a packed room that the network drove 180 million people to App Stores (Apple and Google) in July alone.
The theme of the day was very much geared towards helping those that paid to attend and Nicholas Lovell, founder of GamesBrief, made sure that attendees went away with some valuable tips in the 26 MORE ways to make money from your game. It may have taken longer than the 26 minutes that were on the bill but those in the room weren't about to start complaining.
Sampling of the coffee was up next and with a huge area dedicated to this there was plenty of chance to schmooze and chat to any number your fellow attendees. The short break gave way to a discussion on what the games industry can learn from Japan with Harry Holmwood, CEO of Marvelous AQL. The knowledge that he imparted included some surprising facts such as "revenue per download is far ahead of any other nation and three times as large as the USA", in Japan.
One company that has been doing a lot of things right in the social casino arena is Yazino, and their CEO Hussein Chachine talked about how complicated it was to build the site. It took over three years in total and it's still a big challenge to operate something across so many platforms.
The morning finished off with a discussion on how to create layer affinity, jointly given by Caroline Howes, COO at Playmob, and Martin Williams, director of content and business development at Mentez. Williams made an interesting analogy that involved popping bubble wrap and casino games, with Howes adding that offering charity donations in games "makes it feel more worthwhile and wholesome".
Lunch was cut short by half an hour due to the sheer girth of information available in the morning and it meant just a few nibbles until jumping headlong into the afternoon with a visit to the Smartphone & Tablet Games Summit. The session was one for the true number bods as Richard from analytics firm Flurry filled our heads with more numbers than a times table as he called apps the "biggest content revolution we have ever seen".
OMGPOP's overnight sensation Draw Something was on the agenda back over at the Social Gaming & Gambling Summit as CouchBase co-founder J. Chris Anderson handed out t-shirts and even rapped his way through 45 minutes discussion on the firm. Who said conferences weren't down with the kids?!
The gamblers among those in attendance had to wait until late doors to get their second fill of the day when a panel discussed the past, present and future of social gaming – with a specific focus on social casinos. In this round table we heard from a wide spectrum of delegates with legality among the topics be aired fully.
Like any conference worth its salt this one ended up with a free drinks reception and the organizers can be very happy with what was an impressive day of excellent seminars and networking.
Comments