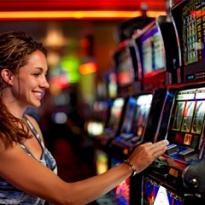 The traditional stereotypes surrounding slot machine players don't jibe with reality, according to a new study by Sandy Chen, an assistant professor of Hospitality Management at Oregon State University-Cascades. In stark contrast to the cliché of the poor, uneducated senior feverishly stuffing his or her social security check into the machine, Chen's study identified the typical slots player as a female homeowner between 55 and 60 years old with some college education and an annual household income of over $55k.
Oregon station KTVZ reported that Chen classified slots players into four categories. Utilitarian gamblers are seeking to avoid boredom more than score a big payday and may even get sufficient enjoyment from merely watching others play the machines. Excitement gamblers avoid progressive machines because the payouts are too infrequent to meet their desire for the thrill of victory. Multipurpose gamblers are younger, more likely to be single, less educated and lower down the socio-economic scale, who play for fun and the pursuit of a payday, and are more attracted to theme games. Relaxation gamblers were both better educated and financially well-off, who played for fun and socialization and rarely played outside a set denomination, which averaged 25-cents to $1 per spin.
Chen's study also found that over 60% of respondents preferred small, frequent payouts to machines that paid out larger amounts less often. Only a third of players preferred progressive jackpot machines, but 70% of those who did cited Wheel of Fortune as their progressive of choice. Less than a fifth of players stated a preference for theme games, but of those who did, the most popular themes were game shows, action movies and board games. Jacks Or Better was the most popular video poker game, followed by Deuces Wild and Double Double Bonus.
BORN THIS WAY
A separate study by researchers affiliated with the Amsterdam Institute of Addiction Research has added weight to the theory that problem gamblers are born, not made. In a presentation at last month's European College of Neuropsychopharmacology Congress in Vienna, researchers described how functional magnetic resonance imaging of pathological gamblers' brains showed heightened levels of activity compared to the brains of people with no gambling issues when each subject contemplated the outcome of a gambling game.
The 'abnormally increased reward expectancy' displayed by the pathological gamblers makes them "overoptimistic with regard to gambling outcomes." The idea that problem gamblers are born and not made adds credence to research by both the Harvard Medical School and the government of British Columbia that showed increased availability of gambling options did not create more problem gamblers. It also directly refutes claims recently made by the North American sports leagues that allowing single-game sports betting meant "many new gamblers will be created."
SAY CHEESE AND SAVE SOME CHEDDAR
Saving problem gamblers from themselves is the justification behind the Australian government's proposed gambling reform law, which would require the country's clubs and hotels to install voluntary precommitment technology on their video poker (pokie) machines. The clubs will bear the weight of this technological bolt-on plus a 'supervisory levy' to finance the government's oversight of the plan. The total cost of installing the precommitment technology on the nation's vast stock of pokies has been estimated at up to $400m.
However, New Zealand designers Gaming Inc. say they've developed an alternate system that would cost a mere $15m to install. The system utilizes video cameras in conjunction with facial recognition technology to determine whether the player using the machine has been flagged as a problem gambler. The machine would remain inoperable until it has confirmed that the player is okay. Martin Cheer, CEO of pokies trust Pub Charity, told Fairfax News that Gaming Inc.'s system was "the future" because it is "the only system which doesn't rely on a human element and can ensure people are excluded from every gaming room in the country." But critics point out that the system wouldn't prevent the average punter from occasional overspending, a nanny-state safeguard that anti-gambling types are putting heavy pressure on the government to provide.
Comments