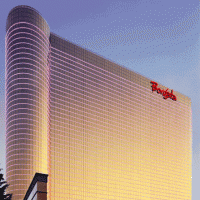 The Borgata Hotel Casino in Atlantic City has named Tom Ballance, an industry heavyweight boasting over 30 years of experience, as their new present and Chief Operating Officer, pending approval from the regulatory board.
Despite being the brightest light in the Atlantic City strip – they marked September as the highest earner among all the casinos in the AC joint with revenues of $55.3 million – the Borgata hasn't had the kind of success on the spreadsheets that it's been accustomed to. It's $55.3 million revenue in September is actually 5.9% worse than what they achieved in the same time in 2011.
The hiring of Ballance as president and COO can be seen as a way to further assuage improvements Borgata's day-to-day operations and ensure that it remains on top of the heap in the entire AC casino landscape. Ballance's new role within Borgata will allow current company president Bob Bougher, and the man Ballance will continue to report to, to expand his role in managing Boyd Gaming.
"Tom Ballance is a seasoned executive, with more than three decades of operating and development experience in the Atlantic City market," Boughner said.  "I have every confidence that Borgata will continue to maintain its position as the region's leading entertainment destination under Tom's skilled leadership."
Boyd Gaming president and CEO Keith Smith also voiced his support for Ballance and the work he has done in Borgata since joining the company back in 1998. "Tom Ballance has helped position Borgata as the region's premier gaming property, and his promotion reflects our ongoing commitment to Borgata and Atlantic City," Smith said.
"By assuming responsibility for Borgata's day-to-day operations, Tom's promotion enables Bob Boughner to take on a larger role in the management of Boyd Gaming, while still overseeing the operations of Borgata.  Bob is one of our industry's most experienced and effective executives, and we look forward to having him play an expanded role at our Company as we prepare to complete the acquisition of Peninsula Gaming."
Comments