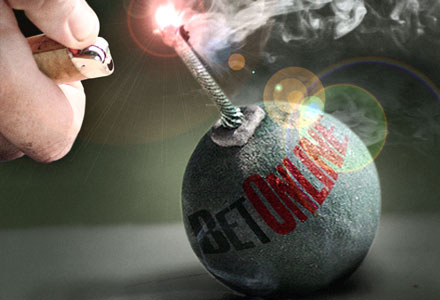 It's been about six years since sports bettors were screwed over by one of the biggest swindles in the history of the gambling industry. The wheels started falling off the Bet on Sports bus in August 2006, leading to its total collapse in October of the same year.
Both BoS CEO David Carruthers and all around bad guy Gary "G" Kaplan both went to prison and served years for their roles in the debacle, while most of the other ringleaders are hidden away in Central America, enjoying what's left of the BoS players deposits. And though BetonSports.com is now a domain of the past, the BoS legacy of dirty tricks and bettor abuse continues through the Panama-based online sportsbook BetOnline and its American owner Dalton Wagner, who purchased the then failing sportsbook back in 2010.
Wagner had no sportsbook experience when he first moved to Costa Rica but he worked hard to build up his various sportsbook brands. Looking to cash in his chips, he convinced the soon-to-fail BoS group to buy him out. In doing so, Wagner found a new mentor in Kaplan, and the predatory pair quickly got down to business.
Wagner's hands were all over the day to day operations of BoS, and along with Kaplan (much more so than Carruthers), he was primarily responsible for the decisions that would eventually tank the company, steal bettors' account balances, and leave BoS PLC investors holding piles of worthless stocks.
When BoS fell, however, Wagner managed to slip the American legal net that snared Carruthers and Kaplan. While making good his escape, he purloined the BoS database, which at the time was thought to be one of the largest and most valuable collections of American gamblers' names, addresses, and phone numbers.
With that database, Wagner was able to leverage a piece ofBetOnline – then believed to be owned by a certain "family" from New York. When these familial members were arrested, Wagner bought out the rest of BetOnline, leaving him in full control and ready to reacquaint the gambling world with the ways of BoS.
Bettors who frequent sports betting forums all know about BetOnline's reputation for indiscriminately confiscating players' funds at the whims of Wagner-led management decisions. If not for bettor advocacy sites like SportsBookReview or the OSGA publicly shaming the group into action, these players would be left with nothing.
Late last year, posters on the popular poker forum 2+2 complained that BetOnline was requiring players to say their password aloud whenever they needed to talk to an account manager. This meant the players' BetOnline passwords weren't encrypted, leaving their deposits exposed to rogue account managers. The worst case scenario became reality in July when a poster at 2+2 had his account "hacked" and $60,000 taken from it. The widely held assumption is that one of these rogue account managers copied a player's user account and password, and then dumped the money to a friend. Thankfully, due to a public shaming campaign on the forums, the poster had his money returned. Regardless, should you decide to bet with BetOnline, remember that you have entrusted your account security to a company and owner with a long history of defrauding its players.
Not only do Dalton Wagner and BetOnline abuse their players, they're also notorious for using underhanded SEO tricks and Google confusion to steal traffic from far more reputable sportsbooks. BetOnline buys up common misspellings of competitors' domain names and domains with the competitors' brand name in the URL (aka 'typosquatting'). They will then skirt Google's terms of service and purchase pay-per-click advertising based on the competitors' brand name, and then sit back and wait for signups as confused bettors looking for a reputable book are duped into landing on BetOnline.
Dalton Wagner's dirty tactics haven't gone undetected by Bookmakers Review, the Pierluigi Buccioli-run site with a reputation amongst sports bettors as the most honest sportsbook rating site to date. BMR currently rates BetOnline as just a 2.5 (Weak) — the rating BMR assigns to bookmakers who have more blemishes than strengths and/or have proved themselves to be vulnerable to problems and adverse business conditions.
Frankly, we think Mr. Buccioli is being overly kind, but the boys at Covers.com don't believe he's being kind enough. The Judas Goat of the sports betting industry could once again be leading the lambs to the slaughter as they have BetOnline firmly ensconced on their 'where to play' list.
Wagner, like his mentor Kaplan, is an American citizen who has been known to skirt US laws, who is involved with criminal organizations, and — the sin of sins in the eyes of the US government – who does not pay his fair share (or rather, any) in taxes. These days, that probably leaves him vulnerable to a targeted drone strike.
BetOnline could be a ticking time bomb for American sports bettors. Six years after the collapse of BetOnSports, Dalton Wagner continues their old tradition: if you can't beat' em, cheat 'em.
Comments