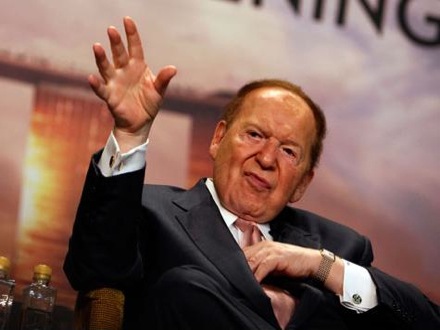 Another day, another lawsuit for the Las Vegas Sands group of companies and this time it's even closer to home than Sheldon Adelson would want it. Huffington Post, amongst others, quote two sources close to the matter as saying the Nevada Gaming Control Board (NGCB) are investigating the company's Macau subsidiary over bribery claims that first surfaced last week.
Sands China is reportedly being investigated over activities in Mainland China and if it leads to an NGCB complaint it could, in the most extreme of cases, lead to their license to run casinos being revoked. This is obviously a measure that is unlikely to be taken by the Nevada Gaming Commission but the fact the NGCB is now investigating is likely to have alerted the company's big wigs.
Now that the NGCB has got involved it means that along with the Department of Justice and Securities & Exchange Commission there is a considerable amount of the US legal system very interested in what has been going on in the Far East. The earlier investigations are looking at a $50 million payment for real estate on the site of the Adelson Centre, a contract for a ferry service from Macau to Hong Kong and sponsorship of a Chinese basketball team.
The latest probe has as much to do with the breach of contract suit brought by former Sands CEO Steven Jacobs than anything else. The saga, which has dragged on for over two years, is a strange one to say the least. He was appointed as CEO in 2009 when the whole company was down in the doldrums. Fast-forward to early 2010 and COO Michael Leven was crediting the subsequent turnaround to Jacobs. Then it started to turn sour. This ended in Jacobs being fired in July of the same year and then the lawsuit in October with prostitution and all sorts thrown at Adelson and co. More interesting than anything else is the fact that Jacobs' testimony made no mention of dealings in the Mainland, meaning the US authorities have taken it on themselves to probe the dealings on the Mainland.
Lawsuits being taken out against companies for their Asian operations is hardly surprising given the US culture to sue anything that so much as gives you a graze on the leg. It was something noted by regular CalvinAyre.com contributor I. Nelson Rose earlier on this year and when he observed that "Americans bring more than innovation. They bring lawsuits."
The whole mess won't be doing anything for the reputation of Adelson and his backing of the Republican party will mean this won't escape the limelight in the lead up to November's election – even if it comes out that nothing untoward went on. Or is it just that all this is coming out to coincide with the race for the Presidential seat? We'll hopefully get some answers in the coming weeks and months.
Comments