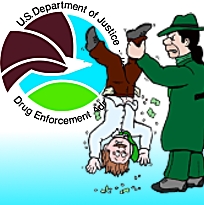 Two 'professional advantage gamblers' have won the right to pursue a lawsuit against a US Drug Enforcement Agency officer who seized $97k in cash from the pair at an airport in Atlanta in 2006. On Wednesday, a panel of the US 9th Circuit Court of Appeals ruled that Nevada residents Gina Fiore and Keith Gibson could sue DEA agent Anthony Walden in a Nevada court for alleged violations of the gamblers' civil rights. Walden had appealed a lower court ruling, claiming that Nevada had no jurisdiction over him, as he neither owned property there nor had ever visited the state. The Circuit Court panel voted 2-1 that the gamblers' case against Walden could go ahead in Las Vegas district court.
In August 2006, Fiore and Gibson were returning to the US from a gambling trip that took them to Atlantic City and San Juan, Puerto Rico, carrying with them $30k in 'seed money' plus $67k in winnings. While transferring planes in Atlanta, Walden and other federal agents questioned the pair about drugs and weapons. Though the gamblers explained why they were carrying the $97k, a drug-sniffing dog clawed once at Gibson's luggage, and despite the fact that a search turned up no evidence of narcotics, the agents confiscated the bag and all the cash the gamblers were carrying on suspicions that it was the proceeds of narcotics trafficking. (The agents refused to leave the gamblers even with enough money for cab fare home from the Vegas airport.) Walden told Fiore and Gibson that if they could produce receipts proving the legitimacy of their gambling claims, the money would be returned later.
After returning home to Las Vegas, Fiore and Gibson sent Walden their tax returns as proof that they were professional gamblers, along with receipts from their gambling trips. Despite the fact that DEA background checks on the pair determined them to be squeaky clean, Walden filed a 'probable cause' affidavit saying there was sufficient evidence to support the forfeiture. The $97k was ultimately returned to the gamblers seven months after it was originally seized when the Asst. US Attorney assigned to the case determined that Walden's affidavit was "misleading" due to the omission of exculpatory evidence.
While the Asst. US Attorney's ability to recognize a shakedown when he saw one is to be commended, it's worth noting that he originally offered to return the money to Fiore and Gibson only if they were willing to sign a release – presumably to eliminate the likelihood of precisely this type of legal action – but the gamblers called his bluff, and the Asst. US Attorney folded. It's also worth noting that a 2011 Chicago Tribune analysis of three years of police data revealed that only 44% of these types of 'alerts' by drug-sniffing dogs ultimately led to the discovery of drugs and/or paraphernalia. A separate 2011 study by the University of California, Davis showed that such false positives were usually a case of the dog picking up subtle cues from its handler… cues such as 'I hate that my lousy government job doesn't allow me to travel to tropical destinations and earn tens of thousands of dollars in the process, and it really bugs me that other people have the skills to do stuff like that.' Seriously, that's one perceptive dog.
Comments