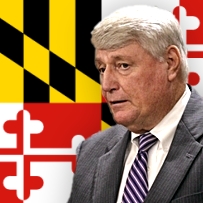 In perhaps the least surprising piece of news you'll read this week, an online gambling bill isn't in the cards for the state of Maryland this year. State legislators are set to convene a special session – the Senate on Thursday and the House on Friday – to consider a few lingering items, among them the possibility of the state granting a sixth casino license. But late last week, House Speaker Michael Busch (pictured right) announced that internet gambling would also come up for discussion, despite the lack of previous talk on the issue among state legislators. Not surprisingly, Busch's announcement provoked howls of outrage from anti-gambling types over the possibility that a bill might be introduced with such minimal debate. On Tuesday, Busch bowed to the inevitable and said legislators were "not going to take [internet gambling] up, period" during the special session.
To justify his about-face, Busch claimed a conversation with Maryland State Lottery head Stephen Martino convinced him there was insufficient research for legislators to ponder in order to reach a conclusive determination on online gambling's pros and cons. Martino, who told the Baltimore Sun that he wasn't the source of the original internet gambling discussion push, said the Lottery had taken no stand on the issue, and that he would simply carry out the legislature's wishes either way. That said, Martino claimed he was confident his agency could implement such an internet gambling program should the call come.
Meanwhile, the clock is ticking on California's hopes of passing an online poker bill before the current legislative session ends Aug. 31. On Monday, Senate Pro Tem Darrel Steinberg told reporters that passage was "possible, but I don't see it in the last four weeks." In a nod to the Senate's overwhelming support in May of the SB1390 sports betting legislation, Steinberg even offered "three-to-one odds that the bill has a 50% chance of passing. And I would bet the under." Nevertheless, Steinberg says the bill's supporters will "probably give it one more shot in the next week or so to see if there's a way to break the logjam." Continued objections to Sen. Rod Wright's SB1463 legislation from certain Indian tribes led to the bill being unceremoniously yanked off the agenda of a Senate Governmental Organization Committee hearing last June, and little progress appears to have been made since that time. Worse, a Fields survey showed California voters were more in favor of legalized sports betting than online poker.
Wright recently told Gambling Compliance that time wasn't necessarily the main concern, because "there's always time in the legislative process once you have … some level of consensus as to what the bill's going to be." Wright's biggest challenge in crafting legislation acceptable to a majority of stakeholders has been "overcoming the fear" indian tribes have regarding the impact on their existing B&M operations. Wright says all he really needs to tip the balance is the support of a couple tribes "that tend to hold more sway than the others."
Chief among the tribal opponents of Wright's bill are the Morongo Band of Mission Indians and the San Manuel Band of Mission Indians, the principal members of the California Online Poker Association. On Tuesday, the California Tribal Alliance, which supports online poker but dislikes Wright's bill, sent legislators a letter saying "last minute, back-room brokered deals on an issue that is vital to our tribal governments is the type of action that we must, and will, oppose until the final minute of this legislative session." While it seems as if California's intrastate online poker dream is dying, Wright has warned California's fence-sitters that a lack of action at the state level creates the risk that a federally-imposed system would permit other states to come into California, meaning California "would very well then be in a position where we wouldn't get anything at all" other than a slice of the federal pie.
Comments