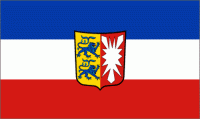 Various sites are reporting that Schleswig-Holstein's online gaming industry law is to be scrapped and the state will fall in line with the remainder of the country. Both Gaming Intelligence and Austrian site PokerFirma report the new government coalition formed between the SPD, FDP and CDU will look to overturn the only recently launched act. A translation from PokerFirma suggests, "no compensation is possible" for the companies that were awarded licences.
A number of companies, especially the German-reliant bwin.party, could be in for a shock after a change in government in the Northern state looks to have ended their gambling industry plans. Seven firms had already been awarded the licences and hopes were that the rest of Germany would follow suit and replace their State Treaty with this. The nail in the coffin for the bill, which only narrowly passed in the first place, was the change in government at the beginning of May. The firms that already had a licence in the state are bet365, betfair, bwin.party, Oddset, JAXX SE/myBet, Die NordwestLotto and Tipico.
This leaves Germany in a state of limbo as far as online gaming is concerned. The country's State Treaty isn't compliant with the European Union and it essentially means that a number of companies won't be looking at the country for some time as a result of the government change in Schleswig-Holstein. In the meantime just wait until the stock market gets wind of this. That'll be when the real shit hits the fan and we start to find out what everyone really makes of the whole situation in Germany.