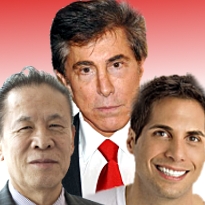 Wynn Resorts CEO Steve Wynn had a mixed day in two different courtrooms on Thursday. In Clark County District Court in Las Vegas, Judge Elizabeth Gonzalez said she needed more info to determine whether to grant Universal Entertainment CEO Kazuo Okada's request for Wynn Resorts documents pertaining to the company's $135m donation to the University of Macau in 2011. Okada's previous document request was largely rejected in March – the court ordered Wynn to release all of two pages – on the grounds that its scope was too broad. Okada filed an amended, more specific request earlier this month, and on Thursday Gonzalez set a June 28 hearing to decide which (if any) documents Wynn will be forced to cough up.
In case you've been living under a rock, former Wynn director and single largest shareholder Okada was ousted and his shares were forcibly redeemed at a discount in February following allegations that he'd lavished inappropriate gifts on Philippine gaming regulators to smooth his bid for a Manila resort casino license. Arguing against Okada's request on Thursday, Wynn lawyer James Pisanelli claimed Okada was "struggling and grasping at straws and hoping and praying that he can find something in the ledger, something that someone did in Macau that is like what he did in the Philippines."
While all this was going on, Los Angeles Superior Court Judge Joanne O'Donnell rejected a request by soft-porn producer Joe 'Girls Gone Wild' Francis to dismiss the defamation lawsuit filed against him by Steve Wynn. The high-profile pair have been waging a multi-year, multi-jurisdictional legal war that began when Francis couldn't/wouldn't make good on a $2m casino marker. Wynn's defamation suit resulted in part from Francis' claim that Steve had threatened to bonk him over the head (Francis' least vulnerable spot) and bury his body in the Nevada desert. LAist.com reported that O'Donnell also authorized Wynn's legal eagles to peruse Francis' financial statements to determine whether the pervy producer has attempted to hide assets to avoid paying the $7.5m judgment Wynn was granted in February.