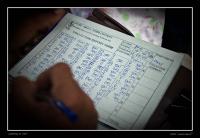 Jueteng in the Philippines is, for all intents and purposes, illegal. But one ranking House of Representatives leader sees the benefits that could come from the numbers game, and is taking steps to lift the ban on the game for socio-economic reasons.
Manila Representative Amado Bagatsing, chairman of the House committee on games and amusement, has authored House Bill 3248 in an effort to push the government to drop the clamps on jueteng. "It's high time to legalize it so the government can raise more revenues to support its many socio-economic and livelihood programs, including infrastructure for education and health," he said.
Predominantly played in the Philippines, jueteng is a game played by gamblers from all social classes. The objective is to select any two numbers from 1 to 38 with the winning number being determined by choosing a pair of numbers from two sets of 38 numbered balls. Theoretically, a bettor stands the chance to win a ridiculous payout of 1:800, and do so with no limits on minimum or maximum bets.
According to Bagatsing, jueteng has the potential to become a boon for the government to increase revenue collection, and in turn, provide extra financial support in government projects in need of monetary infusion. Despite being illegal, the game is still being played in a large number of areas in the country by people of varying social classes with the government repeatedly trying to stop operations of the game to no avail. Bagatsing argues that instead of spending money trying to squash jueteng, they should legalize it in order to take advantage of the monetary benefits it poses to the government.
"By legalizing jueteng, the government would have the opportunity to regulate the numbers game which competes with legal games of chance like the Lotto and its variations, and the Sweepstakes draw," he adds.
But more than just the potential monetary benefits of legalizing the game, it could serve as a way of curbing corruption between operators and local authorities who protect the operations of the game. The government doesn't earn anything from the continued proliferation of the game, so instead of letting all these illegal operations run amok, the argument can be made to just legalize it and make it a source of additional funds that can be used in various government projects.
"Through legalization, the government stands to earn revenues, the proceeds of which would finance government programs and projects, provide jueteng workers a legitimate means to earn a living, and stamp out corruption," Bagatsing explains.
Comments