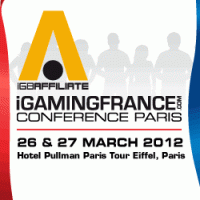 The second annual iGaming France Conference is just around the corner and will be taking place in Paris March 26th and 27th. iGaming Business and iGaming France have partnered once again to bring the industry this niche event focusing on France, a market which is finally starting to make some progress. In fact, ARJEL has recently announced the formation of a committee aimed at improving their gambling laws, great news for anyone focusing on this region and great timing for discussion at the conference itself.
To find out more about iGaming France Conference 2012, who should attend and what topics will be covered, we caught up with conference organizer Alex Pratt, Head of iGaming Business.
Becky Liggero: What is the main purpose of this niche market conference?
Alex Pratt: The niche conferences came about because we identified two important trends the iGaming industry develops; 1) an emergence of localised strategies into specific markets and 2) an abundance of executives, suppliers, affiliates and operators that were purely focused on one country so weren't interested in the bigger events that covered more general subjects.
iGB France is set to address delegates specific needs as well as provide them with a platform to network and do business with the companies in this market. In addition all the content is in the home countries language, in this case French, which means we are able to attract delegates that would never attend a normal iGaming conference because on language difficulties, ensuring the event is truly a representation of that country's iGaming network. We do however equally provide live translation for those delegates that don't speak French.
BL: Who should consider attending iGaming France Conference 2012?
AP: To put it bluntly, anyone that is working or considering working in the French iGaming market should attend. This is the only event in the entire industry to bring together the regulator, operators, suppliers and leading affiliates to network, do business and learn from a conference schedule that is second to none and purely themed around the French iGaming market.
What was great about the event last year is that you had delegates such as the bwin.Party CEO, Paysafe Card, ARJEL (the French regulatory body) and big affiliates like Sportytrader all networking together in the same room; it was a genuine reflection of the entire market, b2b and affiliate. Last year we had over 300 delegates and I expect us to easily beat that especially with the recent news that the legislation is possibly going through some changes by November at the latest.
BL: What are some of the key issues that will be covered during the conference sessions?
AP: We have some incredible panels and sessions this year, with speakers you rarely see at conferences. My personal highlights will be:
CEO Panel – On this we have a who's who of French iGaming including ARJEL, PMU, Pokerstars France, Betclic France, Barriere Poker and Unibet France. They are set to discuss key issues and give perspectives on future developments which should be especially interesting with the current French legislation and how it will affect companies working this market.
Innovation, social gaming and social media and networking – All impressive buzzwords and with the recent sale of Double Down Interactive to IGT social gaming is the talk of the sector at the moment so I am extremely interested to see what this panel has to say on these opportunities particularly in the French market.
SEO Workshop – As a wannabee SEO expert I always find these sessions extremely interesting and educating and have no doubt Paul Sanches, French SEO expert and author of the blog SEO Blackout will not disappoint as he and other SEO experts share their secrets to get to number one in Google.
BL: What changes have you made to 2012 conference that will make it even better than last year?

AP: Firstly we have decided to focus on the content at the event as this was what the delegates highly valued in 2011, so as you can see from the sessions we have some incredible speakers and are guaranteed to get insights and opinions that just aren't available at the mainstream iGaming conferences. http://www.igamingfrance.com/conference/en/programmeconferences/
Secondly we have broadened the reach in terms of free delegates to not just include affiliates but also anyone that can deliver traffic; whether that's an agency, media owner or email marketing company. This was off the back of direct feedback from our clients in that they wanted to meet as many people as possible that could deliver high quality French gaming traffic. By doing this we believe we can ensure increase in numbers in 2012 boosting the ROI of operators attending.
Our final change was to improve the evening networking events and this came from a successful test at our Spanish event iGB España where we organised a "mass meal" at a local restaurant prior to networking over drinks. This worked really well and allowed delegates to meet in a setting that was perfect for business but still provided an informal atmosphere where they could relax and enjoy themselves. Places will be limited so make sure you register for the conference soon to ensure you are able to attend this evening.
BL: Thank you so much Alex, we look forward to bringing the industry coverage from this event!