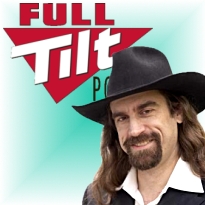 Monday brought some rare good news for Full Tilt Poker (FTP) execs and pro players formerly associated with the scandal-plagued online poker outfit. Law360.com broke the news that US District Judge Leonard B. Sand had dismissed most of a $150m class action RICO lawsuit filed in June 2011 by several aggrieved poker players against FTP, Tiltware and other FTP-associated companies, plus various Team Full Tilt players, including Chris 'Jesus' Ferguson, Phil Ivey, Erik Seidel and others. Phil Gordon got his name dropped from the suit in July, and now the rest of the alleged rogues' gallery are off the hook.
In dismissing the suit, Sand described the plaintiffs' racketeering claims as "too attenuated" to warrant going forward. Sand said it "remains unclear" whether the plaintiffs' injuries were (as the players suggested) the result of FTP principals deciding to halt withdrawals, or whether the US Department of Justice shared some of the blame for tossing a hand grenade into FTP's bank accounts on Black Friday.
But while the FTP pros may be off the hook and the RICO claims against the corporate defendants were dismissed, Sand allowed conversion claims to proceed against FTP corporate offshoots Pocket Kings, Vantage and Filco. In Sand's words: "The fact that the three defendants worked together to maintain the Full Tilt website makes it plausible to infer that they also worked together to block Plaintiffs' access to the money in their accounts." Sands also granted the plaintiffs' leave to amend their complaint to include conversion claims against Tiltware and Pocket Kings Consulting.
Jeff Ifrah, whose Ifrah Law firm represented the FTP companies and pros in the suit, issued a press release trumpeting the victory, suggesting it would affect other pending class action suits against the individual defendants. "The Court's decision recognizes that relief for the players is being pursued by the United States. There is no compelling basis to open additional doors for private class action lawyers to purse that very same relief."
In related news, Chris Ferguson is reportedly close to reaching some kind of settlement with the DoJ regarding his role in the FTP debacle. Ferguson's attorney Ian Imrich told CardPlayer.com that his client was having "very positive dialogue" with DoJ officials, and hoped to have the matter resolved early this year. Imrich also said that "based on what Chris and I are hearing," the rumored deal for Groupe Bernard Tapie (GBT) to acquire the FTP assets forfeited to the DoJ should be concluded by "the first half, if not the first quarter, of this year."
Imrich rejected claims made last week in a Subject: Poker article that Ferguson was threatening to hold up the GBT/DoJ deal unless he was repaid $14.3m that FTP allegedly used to pay its bills. Imrich said the Subject: Poker article contained "numerous erroneous comments and contentions," and that Ferguson was only seeking an accounting request from FTP CEO Ray Bitar. "Chris' request has nothing to do with [the GBT/DoJ deal], which my guy supports."
Comments