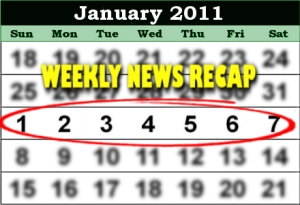 With people still shaking off their holiday excesses and getting back into the work groove, there wasn't a whole lot of major developments this week, so we're just going to break things down by a few major areas of interest:
Ongoing fallout from the US Department of Justice Wire Act reversal
Our legal eagle Alfred Denning turned his eagle eye on the recent DoJ Wire Act flip flop to determine what the opinion really means for the US online gambling market. Meanwhile, Calvin Ayre maintains the opinion won't mean much in terms of creating long-term shareholder value for UK-listed online gaming companies. In New Jersey, Sen. Ray Lesniak chose to wait until the next legislative session to push his intrastate online gambling bill, after a conversation with Gov. Christie assured him the move would produce a bill the Governor would support. Gaming lawyer Anthony Cabot suggested such intrastate moves could create a regulatory 'race to the bottom'. Nevada is hoping to become the enshrined regulators of a federal system, spurred on in part because the state's casinos lost $4b last year. Lil' help?
Euro-market moves
Spain delayed the implementation of its new regulatory system by six months; Belgium approved the first sites under its new regulation scheme: Bwin.party launched its Danish partnership with Danske Spil and resuscitated its Pokeroom brand; France ordered its domestic internet service providers to block unlicensed gambling sites, while Belarus decided to block the domains of, well, just about everybody. And while having your founder recognized by the Queen is nice, all of Bet365's employees can take pride after their Stoke employer became the UK's biggest bookmaker.
Asia ascendant
Macau's gross gambling revenue was up 42% in 2011, although some analysts expect that growth to slow to a laughably puny 20% in 2012. (Honestly, why even turn on the lights?) But will poker have a presence in Macau by year's end? Meanwhile, junket operator Asia Entertainment and Resources Ltd. saw rolling chip turnover rise 91% in 2011, GigaMedia got a new CEO, and China's third-largest mobile services provider announced plans to launch its first operation outside the mainland in the UK. Watch out, Branson… they're coming to get you.
Comments