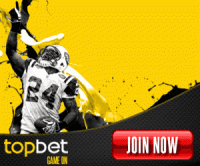 Various reports are stating that TopBet.com's sportsbook is back online with an improved D+ rating from SportsbookReview.com. Now under brand-spanking new management, the site has been taken off SBR's dreaded blacklist for sportsbooks for the first time in six years and seems to be turning a corner of sorts. The bad news is that it still utilizes FutureBet for its software needs.
Also known as Gametech/IGS, FutureBet is a turnkey provider that charges TopBet a monthly fee to make use of its services and as such has certain powers. These include being able to shut the operator off when they see fit or compromise player account security.
2011 was not a good year to be involved with TopBet or FutureBet. Being on SBR's blacklist was bad enough. This was before the decision by Covers.com to add the site to their "Where to Play" list. Trigger widespread condemnation amongst players that had been stiffed by BetED left wondering why Covers were choosing to endorse a site that has quite the list of criticisms standing against including FutureBet being partial to a bout of stiffing.
SBR is a site that we know and respect meaning if they're starting to come around to the new management behind TopBet then it might just about be reaching the corner. The fact it's still backed up by the software company owned by serial scam artist Noel Samson is the most worrying part for us and show that it's a long way from getting round the bend.
Player's are reminded that if they have an outstanding claim against TopBet that it should be filed using a form available here.