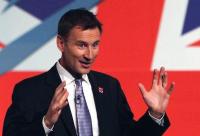 Right when you thought the gambling industrywas hiding in amongst the talk of hardback books, foreign ownership and the 2012 Olympics the Culture Committee made sure it got its rightful airing. Jeremy Hunt told a parliamentary committee that the "inconsistent" Gambling Act 2005 is unlikely to see legislative time in the near future. Concerns amongst government ministers remain over changes that might lead to a proliferation in problem gambling.
When questioned, Hunt told the committee: "I think the truth is that it (Gambling Act 2005) has not been a success."
Hunt added that the casino business industry "is in limbo." A major part of this is the casino duty rate set at 15% back in 2005 – a starting rate that was 500% higher than the original 2.5%. Can anyone hear strains of La Marseillaise? There are also real problems with the rules on which gaming machines are allowed. With the lack of "legislative time", it's unlikely we'll see changes in the near future.
There will be no changes to the system of taxation for online gaming companies either. Earlier this year the Department for Culture, Media and Sport (DCMS) announced changes to the licensing regime for online gaming firms. The fact that no "legislative time" is available means the taxation levels will stay the same for some time yet.
In terms of the entire act, Hunt added, "There are a number of unanswered questions about how the Gambling Act is being implemented."
One of those questions is how the government could contain problem gambling if legislation was changed, adding it's "a big question that needs to be addressed before progress can be made."
In terms of answering the question the government could study the plethora of voices suggesting problem gambling doesn't always increase after legislative changes. It's also been found that gambling is no more of an addiction than a number of the other vices that none of us are supposed to like – I'm looking at you Captain Morgan!
Not wanting to ram it down your throats but the point remains that a small percentage of individuals are prone to abuse anything. Whether it's alcohol, credit cards, shopping or breeding goldfish. People that have a problem should receive help and we're all for this. It mustn't get in the way of changes to the quality of how we live out lives and ultimately not effect changes to an act that "has not been a success" according to the Rt Hon. Mr Hunt.
Hunt did add, "We as a government have nothing against responsible gambling and we recognize it's a huge pleasure for many, many people to have a flutter. It's a part of out national life."
This fits well with Dr Patrick Basham's comments that retirees who "remain active in the community and constantly engage in social activity, often, largely or exclusively through gambling, live happier and healthier lives."
The UK government does have one of the world's best regulatory regimes on the planet and as remote gaming licenses go the Gambling Commission's are some of the best. The DCMS sound like a good bunch and the creation of the Commission has made the UK one of the safest places to gamble in the world. No wonder the DCMS is "a champion of responsible gambling."