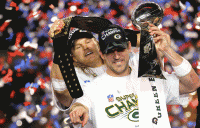 The last remaining sandbags holding back the flood-gates of negativity building up for Brett Favre may have just gave way after his comments about the achievements of his predecessor in Green Bay, and the NFL's newest golden boy, Aaron Rodgers.
In a radio interview with Atlanta's 790 The Zone, Favre went on record saying "He's got tremendous talent, he's very bright and he got a chance to kind of sit and watch and he saw successful teams do it right…And so he just kind of fell into a good situation. And on top of that, he's a good player. I don't think anyone would question now the talent around him is even better than when I was there. So I really was surprised it took him so long. Really, the early part of last year season, it hadn't quite clicked yet and I didn't know if it would. I just figured at some point, when they hit their stride, they're going to be hard to beat. And that's what happened."
All Favre had to do was take his Hall of Fame career and disappear into the sunset. But in typical Favre fashion, it's clear that he couldn't help but return to the spotlight.
Coming off one of the greatest single game performances by an NFL QB- Rodgers who accounted for six touchdowns, passing for four and running for two, in the Packers' 49-23 dismantling of the Broncos, while passing for 408 yards to make him the first player in NFL history with at least 400 passing yards, four passing touchdowns and two rushing touchdowns in a game- has already fired back at Favre.
"I'm just going to say that I was really proud of our team," Rodgers said. "It takes 53 guys to win a championship and we had the right recipe last year and we're trying to do the same thing this season." –ESPN.
Sports analysts have been quick to point two glaring facts: The first being the most obvious, that it was Favre who held back Aaron Rodgers with his constant flip-flopping on his retirement. The second fact is that in Favre's illustrious career, he has only one Super Bowl title to his name, one in which he wasn't even the MVP.
As for Rodgers, in his short career he's already matched Favre in Super Bowl rings, and has Super Bowl MVP on his resume as well.
Isn't this just a case of sour grapes for Favre?
By his comments, isn't Favre inviting everyone who has had to bite their tongue on Favre and his circus show over the past few years to chime in with their two bits?
Rogers could have easily taken the cheap shot road and say "Well at least I'm not sexting cock shots to sideline reporters."
Well Brett, you don't throw stones when you live in a glass house.
Comments