Betfair has recruited its latest band of blue-chip sports stars as they attempt to grab hold of more slices of the mobile gambling industry pie. Manchester United's Dimitar Berbatov, Ashley Young and Patrice Evra compete in a YouTube advertisement against [insert name of random customer here]. The aim of "Star and Strikes" is to knock down as many ten pin bowling pins with a football inside 40 seconds. All this goes on while a crowd cheers on and bets on the action using their iPad. The winner of the match…well…we'll let you see below:
The release got us thinking here at CalvinAyre.com. Is Betfair's use of as many former and current sports stars going to impress shareholders enough to reinstall some confidence in the ranks? Probably not. More importantly, where does this rank alongside other classic ad campaigns that featured stars of the footballing world? Here are some of the more infamous ones…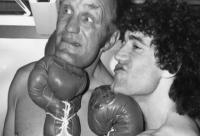 Brut
Before Sir Alex Ferguson wound him up to the point of internal combustion, believe it or not Kevin Keegan had the ability to make women go weak at the knees – in a fifth Beatle imitation band kinda way. He just wasn't quite George Best. Back to the advert and Henry Cooper trains the young whipper snapper before they start bantering as if it were 2009 and not the homoerotic summer of 1975. See what you think.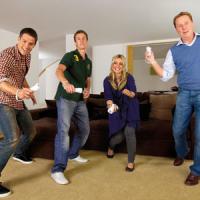 Jamie Redknapp's Greatest Hits
Until he bagged a seat on Sky's Super Sunday sofa, Jamie was better known as the son of a famous manager or "the guy that's boning that fit bird Louise?" That was before he LITERALLY exploded onto the mainstream and he LITERALLY hasn't looked back since. Then came the adverts. There's a reason why comments have been disabled by Louise's official YouTube page for the couple's Thomas Cook advertisement. If it wasn't enough of a piss take that he was actually promoting, Thomas Cook then playing football bare-footed whilst suited and booted on a beach took the biscuit.
Then came the Nintendo Wii – and this time dad came along for the ride too. Triffic!
If he were on the Sky sofa, it's likely Jamie's description of the experience would describe Wii football as LITERALLY the same as being on the pitch. Improvements Nintendo could make? After Louise had uttered, "I love beating you," Jamie literally knocked her out. This time we mean LITERALLY.
Gary Lineker and his crisps
In a playing career that spanned the best part of two decades, the former-England talisman was never booked. When he retired, that all changed as he became an infamous crisp-fiend. Amongst his victims were the likes of Lionel Richie and Gazza, with the latter crying…again. Walkers even named a flavor after the striker (Salt and Lineker) and last year marked his 20th year as Walkers' chief impresario. The latest one is…pretty piss poor. See what we mean.
Gareth Southgate
Top of the podium can only go to one man. Before the Euro '96 rocked up in England, Gareth was a little-known, well-spoken centre back plying his trade at Aston Villa. He came through the ranks at Crystal Palace and then established himself as one of the country's best centre-halves. One late June night at Wembley Stadium he made sure he's be remembered forever by missing the decisive penalty in the semi final against Germany. If he hadn't been ridiculed enough, then Pizza Hut's national advertising campaign saw him being laughed at for the best part of 30 seconds by two of England's footballing dignitaries – Stuart Pearce and Chris Waddle. Elaborate usage of the word "miss" while Gareth sits with a bag on his head before smashing his huge honker on the nearest pillar. Bravo Gareth. Bravo.
Who's your favorite footballer turned advert star? Let us know below…
Comments