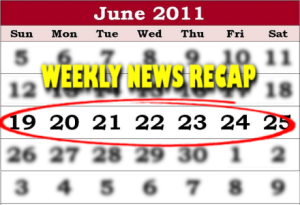 Okay, there's too many new WSOP bracelet buddies to list individually, so just go here.
Kill Bill Vol. 2: online poker proposals hit Congress
Rep. Jim McDermott (D-WA) blew the dust off his two-year old proposal to hoover up 28% of an online poker player's bankroll. Now, if only HR 2230 could find a companion bill that would actually legalize online poker… Enter Rep. Joe Barton (R-TX), bearing his long awaited HR 2366. You'll forgive Joe's tardiness, but erasing the Caesars Entertainment letterhead from all 101 of HR 2366's pages took longer than expected.
National Football League season saved?
No one's spiking any footballs yet, but the US-facing sports betting industry is breathing a little easier on news that the NFL has reached a tentative labor agreement with its players. Seems there will be a Christmas this year, after all.
Ladbrokes covets Sportingbet, ditches online head McIlraith
Ladbrokes wants to acquire Sportingbet for around £462m. After two failed hookups this year – first 888, then Playtech – Lads is now officially the fat drunk chick at the party. She's clearly gagging for it, but you're just not sure it's worth the grief. Plus, now everybody's watching…
Betfair CEO David Yu on his way out?
Betfair is rumored to be preparing for CEO David Yu's exit, capping a brutal week that saw their stock hit a new record low. Annual earnings report set to drop Wednesday. Run, Dave! RUN!
District of Columbia Lottery 'demonstration games' to make online debut
DC residents will soon be playing play-money games like blackjack and poker online in a test run for the real-money version set to debut this fall. Right in Congress' backyard… Think they'll notice?
Covers.com, betED.com, Logans.com…
Program! Program! Can't tell the players without a program!
COPA taps SciPlay to provide intrastate online poker technology
The California Online Poker Association picks SciPlay, the joint venture of Scientific Games and Playtech, to help bring poker to Hollywood degens like Tobey Maguire.
Merge to accept US players in July
The Merge Gaming Network is reportedly training a special flock of carrier pigeons to fly money from the United States to Australia, and expects they'll be ready to accommodate US poker players come July. Paper money only, please.
Macau visitors up almost 10% in May
In truly shocking news, some statistic emerging from Macau is showing positive momentum.
Full Tilt brings Rush Poker to Apple mobile devices
Great, now put a rush on refunding US player balances.
Calvin Ayre's private two-day 50th birthday party in Costa Rica
Calvin Ayre, girls in various states of undress, midgets, pirates, midget pirates, alcohol, broken teeth… You know the drill.
VIDEO PICKS
Rebecca Liggero buttonholes American Gaming Association honcho Frank Fahrenkopf on the future of US online poker, then she celebrates our industry's fabulous females at the Women In Gaming Conference 2011.
Comments