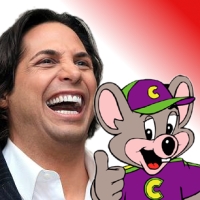 Denise Keller, the killjoy that filed a $5m lawsuit against Chuck E. Cheese because their arcade games resembled "casino-style gambling devices," has voluntarily dismissed her lawsuit "without prejudice." The real estate agent and mother of two provided no details behind her change of heart, but perhaps the "Buzz Keller" ribbing her kids were taking at school played a role, we don't know. Chuck E. Cheese's parent company CEC Entertainment had planned to defend itself partly on the basis that Keller had admitted playing the insidious games herself, which would have rendered her ineligible to collect damages. Instead, CEC settled for releasing a statement reiterating its belief that Keller's "claims had no merit."
Joe "Girls Gone Wild' Francis pleaded "100% not guilty" in a Las Vegas court on Wednesday, rejecting charges that he reneged on a $2m gambling debt allegedly owed to Wynn Las Vegas. A grand jury indicted Francis on felony theft and fraud charges on Feb. 2. In a post-court interview with the Las Vegas Review-Journal, Francis maintained there'd been "no criminal act on my part whatsoever." In a subsequent press release, Francis claimed the "Wynn casino admits I do not owe a debt, and their own internal accounting records reflect this." Despite this claim, Francis' attorney David Houston accused Wynn of "using the Clark County's district attorney's office as its collection agent." Um, if there's no debt, then what's there to collect? D'oh! A trial has been set for Nov. 7.
Wrapping up our tour of US courthouses, notorious copyright trolls Righthaven LLC have been dealt a legal setback in Colorado. US District Judge John Kane issued a stay on all Righthaven cases involving alleged infringement of material published by the Denver Post, because of serious questions as to the validity of Righthaven's standing. For those who don't know, Righthaven's modus operandi is to partner with media publications, which transfer copyright of material they believe to have been infringed to Righthaven, which then sues the alleged infringer for up to $150k and possession of their domain name. However, Righthaven's ultimate goal is to settle out of court for a few thousand dollars. Righthaven's use of copyright as an extortion tool has previously been condemned by US District Court Judge James Mahan, who said Righthaven's tactics stripped the copyright of much of its legal protection. To celebrate the judge's decision, we suggest the Colorado defendants spend the evening gambling at Chuck E Cheese.
Comments