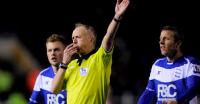 When doing your job there are certain implements that you must remember to take along with you.
What use would a surgeon be turning up to the theatre only to politely inform the patient he had no tools so would just mime the actions?
How could you expect to get the best out of Charlie Sheen if he had neither of his girlfriends or a bottle of Tiger Blood by his side? He just wouldn't be winning.
You could take this even further and wonder how any girls working the legalized brothels in Nevada would get on if they turned up without…well you get the picture.
A British soccer referee might wish he didn't turn up at all after making a right pig's ear of last night's game.
Granted Everton vs Birmingham City on a balmy Wednesday night on Merseyside isn't the most attractive of propositions but can it be that bad that you forget you notebook and cards?
It gets worse.
When it came time to issue a caution to one of the Birmingham players, Jordan Mutch, he showed that when his career as a referee is over it might be time to become an improv comic.
In what is one of the more bizarre moments of the season he had a feel in his pocket, found keys, coins, and a full gourmet dinner but sadly no yellow card. He presented Mutch with literally nothing.
In the video, at this link, you can see Walton's attempt at a yellow card.
Comments