On Jan. 14, three days before former Alabama Gov. Bob Riley left office, he transferred $7.9m of the state's BP oil spill settlement funds to the Attorney General's office, some of it destined to pay for ongoing litigation against gambling companies. Riley made headlines in 2010 with his crusade against the scourge of video bingo parlors, often butting heads with his own Attorney General Troy King. King, who also left office in January, claims Riley never said a word about the transfer of funds.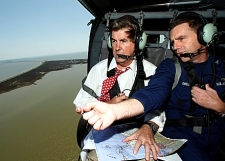 When news of Riley's actions first broke, many Alabamians expressed amazement that funds intended to help them recover from the devastating oil spill in the Gulf could be used for any other purpose, let alone one as trivial as gambling. As King sarcastically put it: "Is the Gulf of Mexico clean?" before adding that the state "should spend BP money on the oil spill before we spent it on something else."
When the Legislative Fiscal Office initially said there were no legal restrictions on how the state spends the BP funds, this appeared to be a classic case of abiding by the letter of the law while trampling all over the law's spirit. Fortunately, after an unpleasant afternoon getting savaged in the media, current Attorney General Luther Strange has agreed to return the funds.
There are lots of anti-gambling zealots. Some of them hold elected office. Some of these elected officials become convinced that their personal belief system dovetails nicely with that of the electorate that voted them into power. Once an anti-gambling zealot arrives at this conclusion, mayhem is rarely far behind.
A 2010 'Ask Alabama' poll conducted by Auburn University found that 60% of adult residents were in favor of regulating and taxing gambling. That was only 1% off a similar poll done five years earlier. Another 2010 poll conducted by the private government think tank Public Affairs Research Council of Alabama found 72% in favor or regulating and taxing, while 60% believed gambling supports economic development.
In other words, around two-thirds of Alabamians are perfectly okay with the gambling that Riley devoted so much time in office trying to abolish. Riley not only spent too much of his mental energies on an issue of minor concern to Alabama, he blew wads of tax dollars on his Elliot Ness wannabe Task Force on Illegal Gambling and the outside legal counsel required to handle all the prosecutions. Not for nothing did incoming Gov. Robert Bentley decide his first act would be to abolish the task force. Too bad we can't abolish zealotry.
Comments