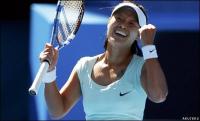 The tennis headlines may well be grabbed by the fact that a men's Grand Slam final will for the first time since 2008 not include one of Roger Federer and Rafael Nadal. Women's tennis is where the real story is unfolding though and we're not talking about the wardrobe malfunctions being suffered by one of the losing quarter-finalists.
For the first time in the history of the sport a female tennis player from China will contest a major Grand Slam singles final at the Australian Open in Melbourne. Li Na, seeded number nine, upset the world number one, Denmark's Caroline Wozniacki and will step out on Arthur Ashe court to face Belgian veteran Kim Clijsters, as the underdog. The fact that a Chinese woman is contesting a final may mean big things for the gambling industry though.
If it's anything like the spike in basketball when NBA star Yao Ming emerged into popular culture then the tennis world could be in for quite the influx. Ming's emergence meant participation in basketball in China increased and this was also the case for overseas Chinese resident.
Li's success could mean the same thing happens with tennis in this demographic and that could be music to the ears of the sports betting industry. Collectively they are the largest block of sports bettors in the world so this can only be a good thing for the sports betting industry at large. As for the sport of tennis, the exposure they gain in the area may be the most valuable thing they've acquired in many years.
Comments