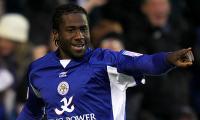 With all the talk of who's going to be ending where come the end of this month's eBay-esque transfer dealings you sometimes forget that there are still fixtures taking place. January was traditionally the month during which giant killings are very commonplace and the sports book providers may well be trembling at some of those that could take place over the next couple of days.
Tonight's marquee tie sees Sven-Goran Eriksson return to the club he occupied whilst former-Thai PM Thaksin Shinawatra flirted with English football for a year, Man City, with his current club Leicester City of the Championship. In fixtures between the two sides the home side hasn't prevailed since 1996 when Man City won 5-0, in an FA Cup third round replay, on January 17 (if only that had been the date today). If you believe in omens that sure as hell ticks some boxes.
The other big match-up involves Arsenal visiting the home of Leeds United, Elland Road on Wednesday. The first tie was only sent to a replay after a late equalizer for Arsenal courtesy of a Cesc Fabregas penalty. The omens aren't good for Leeds having not beaten the visitors on home soil for over 10 years but they have a chance. It wouldn't be the biggest shock of the round and online sports book Boylesports wouldn't be at all surprised at a couple of upsets.
"Both Leeds and Leicester gave a great account of themselves when these sides first met,' comments Boylesports Head of PR Leon Blanche. "Given that both Championship sides will play their replays away from home, they face a tough task, but the FA Cup has produced plenty of upsets through the years."
If like most you've got a little tired of the constant breaking newsreel on Sky Sports News of insignificant transfers then this will provide a welcome break from the countless hours spent in front of Murdoch's empire.