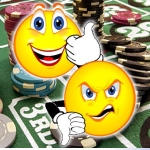 Boyd Gaming has decided not to purchase the 50% of Atlantic City's Borgata Hotel Casino & Spa it doesn't already own, choosing instead to put its money toward paying down some debt. Boyd's decision not to exercise its option opens the door to the mystery bidder from whom MGM Resorts claims to have received an offer of $250m.
Sticking with the Borgata, the troubled enterprise is cutting 3% of its workforce, or about 200 jobs. The news follows reports that the Borgata's third quarter net revenue fell 7% from the same period last year. Gross operating profits were even less attractive, off by 19.7%. The layoffs are in addition to the 272 positions the Borgata shed in September, part of an overall cull of almost 1,400 jobs across AC's troubled casino sector. Which probably makes the following news even tougher to swallow…
Across the border in Pennsylvania, the Sands Casino Resort Bethlehem has received approval from state gaming regulators to increase their number of table games from 89 to 100. While the additional 11 tables will all be devoted to easing the crush at the 12 'popular and very successful' poker tables, two of the current 89 tables will be converted from blackjack to Mini Baccarat and Sic Bo action. This is yet another sign that the casino world is experiencing an Eastward tilt, but definitely not an East Coast tilt.