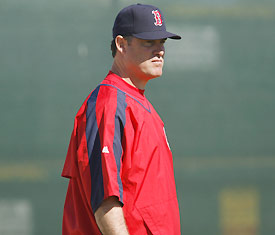 The Toronto Bluejays will be looking to make some moves this offseason in order to get this team to a point where they can compete with the big dogs in the AL East. The Jays have shown promise in the past two seasons under Cito Gaston, but with the departure of Gaston the club has filled the void with John Farrell who had previously served as the Red Sox pitching coach.
It remains to be seen how Farrell will fair as a manager, but he's already attracting big name players to Toronto, like Manny Ramirez. Ramirez told ESPN that Farrell's presence made him interested in playing with Toronto. The Jays have always been a Dominican friendly team, and in fact, the Blue Jays access to young Dominican talent played a huge role in the club's success in the 80's and early 90's when the team won back-to-back World Series Championships.
Manny Ramirez in a Blue Jays uniform just looks right, Manny Ramirez back in the AL East is perfect for baseball and baseball betting as we would get to see Manny at Fenway and Yankee Stadium several times a year and more importantly bet on his play.
There's no doubt Ramirez would help the Jays. He'd be a perfect DH and he'd protect every batter in that lineup. Vernon Wells would see more fastballs instead of the pure junk he sees, and the MLB's homerun king Jose Bautista would get to see the fat pitches as well. Though often slammed in the media, Ramirez is still a highly respected hitter at the plate, though his power numbers were down last year, he's still an excellent hitter who batted .298 in an injury-plagued season.