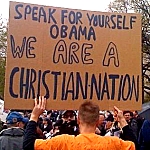 We here at CalvinAyre.com have made no secret of what we expect to result from November's US midterm elections – nothing, at least in terms of changes to federal online gaming laws. However, we grudgingly admit that our psychic powers may not be absolute (if they were, we'd have taken every sportsbook to the cleaners already).
In that spirit, we're reprinting this article written by our friend TJ over at Point-Spreads.com. TJ is more inclined to believe that there's a groundswell building across party lines that, coupled with unprecedented financial need, will compel politicians to take positive action on the issue of online gambling.
That said, we disagree with TJ's suggestion that the Tea Party is of one mind on the issue of gambling. While Ron Paul is indeed a staunch libertarian, there are other, more fundamentalist factions within the sign-carrying hordes that are far less tolerant of activities that fall outside the traditional Judeo-Christian playbook. In our view, these types would sooner erect a mosque on Plymouth Rock than permit Americans to freely exercise their right to gamble. Well, perhaps not, but you take our point.
Our view remains that, assuming the Republicans regain the House and reduce the Democratic majority in the Senate, the likelihood of changes to federal online gaming law are slim to none. With limited time and energies, Congress will focus on weightier issues like deficits, taxes, employment and health care. Change, if it comes at all, will happen at the state level, and even then, it won't likely occur until after the 2012 presidential elections. However, in the interest of equal time, here's TJ's take:
___________________
US Midterm Elections 2010 Results Interest Internet Gambling Industry
Written by Thomas Jensen
Monday, 18 October 2010
On Thursday I was doing some football picks research online while listening to CNBC in the background when I heard CNBC hottie anchor Erin Burnett speaking with Chris Krueger of Concept Capital about how the results of the US Midterm Elections 2010 will affect the internet gambling industry. Checkout the clip at the 6:16 minute mark of this video.
In a nut shell, Democrat Barney Frank of Massachusetts as Chairman of the Financial Services Committee could be forced to push through internet gambling regulation during the lame duck session assuming his party loses control of the House. This makes a Republican sweep of the House of Representatives the outcome the pro regulation faction of the industry would like to see happen, as does the banking industry which Frank serves, but lets take another look at that scenario.
Representative Spencer Bachus of Alabama is currently the highest ranking Republican on the Financial Services Subcommittee which is chaired by Barney Frank. Bachus is part of the GOP establishment that is against any form of internet gambling and has been trying to block Frank's pro internet gambling agenda. Meanwhile Tea Party favorite Ron Paul has supported Frank's regulation initiative. Paul is considered a friend to the online gambling industry while only being a "friend of convenience" to fellow Republican and GOP shill Bachus.
If the Tea Party helps the Republicans gain control of the House, do not expect all the freshmen Congressmen and Congresswomen to fall in line with the GOP establishment, especially in matters such as freedom of liberty. Most if not all will follow Ron Paul's lead and I expect him to get serious consideration as a 2012 Presidential candidate so you might want to grab some Ron Paul 2012 Presidential Futures at 60 to 1 odds. Keep in mind this is the first wave of "throw the bums out of office" which will continue in 2012 and 2016 if the economy does not get better. Now more than ever voters are encourages to support candidates that will agree to support legislation to regulate the industry.
In many ways, this 2010 US Midterm Elections cycle will set into motion the Tea Party taking over the Republican party and throwing the current establishment candidates out of office. At this point, the Republican brand is so tarnished in the eyes of independent voters that the GOP establishment is willing to jump on the Tea Party bandwagon. Many Tea Party candidates on the Republican ticket are taking campaign contributions and getting support from the GOP establishment, once in office all bets are off.
I know the GOP establishment knows this but do the naïve Tea Party candidates? Don't worry, the naïve ones will learn quickly enough and hopefully under Ron Paul's guidance. This will only benefit the industry as a whole over the long haul. Most experts agree its a matter of when, not if the US market will be regulated in the future especially with $42 billion in tax revenues over the next 10 years up for grabs.
I would really like to get moderate Republican Meghan McCain's opinion on regulating internet gambling as oppose to the opinion of a old out of touch guy like Rep. Spencer Bachus, at least she uses the internet and understands this new medium has changed the way we live, work and socialize. Senator John McCain's daughter has been hitting the circuit to promote her new book Dirty, Sex, Politics and has taken opposite positions to her father and his "conservative" friends in the GOP establishment showing she is a free thinker and opinionated. Maybe Meghan is the new maverick? Mark my words, she will run for office down the road and the bookies might as well post some future odds on this rising political star in the making.
If Dr. Ron Paul's son Rand Paul wins the Kentucky Senate seat that is up for grabs on November 3rd, the internet gambling regulation movement will gain a valuable ally in that chamber of Congress. The odds makers have Rand Paul the favorite at -600 odds to win the 2010 Kentucky Senate seat.
Two states, California and New Jersey, are going to have legal battles coming to a head any month now with the Federal government over their right to govern its citizens. California has a measure on the ballot to legalize and tax the sale of marijuana. US Attorney General Eric Holder stated the Federal government will prosecute the sale and use of marijuana regardless of the outcome of the legalization vote in the Golden State.
Let's be really clear about it, this is about money. The Federal war on drugs is big business for Washington, the for profit legal system, the for profit prison system and the military industrial complex. This at the expense of California residents, the state is in major debt and needs the revenue it will generate from taxing the sales of marijuana which could yield as much as $1.4 billion in taxes annually.
Hemp built this country people! George Washington, Thomas Jefferson and many other founding fathers grew grass! Hemp was essential to making clothing, rope, paper and several other useful products which were badly needed at the time by early American colonists. The Declaration of Independence was printed on paper made of hemp and Benjamin Franklin owned a mill that made hemp paper. The Federal government should let the states generate money off taxing the sale of marijuana and this battle between state rights vs the Federal government is about to happen. If California wins, I would expect several other states to follow their lead and set up taxation schemes to generate revenue off the sale of marijuana in much the same way they do off alcohol and cigarettes.
In New Jersey, attorneys for iMEGA are contesting a DOJ motion that seeks to dismiss a challenge to the Federal law prohibiting the expansion of state-regulated sports betting. iMEGA, along with counsel for New Jersey State Senator Raymond Lesniak and Senate President Stephen Sweeney, filed the brief with the US Circuit Court. They are seeking to overturn the Professional and Amateur Sports Protection Act (PASPA) of 1991, a Federal law which limits state-licensed and regulated sports betting to only four states (Nevada, Delaware, Montana and Oregon). According to PASPA, none of the other 46 states may enact sports betting legislation.
Overturning PASPA is a major priority for some proponents of internet gambling, specifically those involved with online sports betting. PAPSA is an unconstitutional intrusion by the Federal government into a matter of regulating gambling, which is reserved for states to determine. Don't take my word for it, the DOJ opposed PASPA when it was making its way through the US Congress in 1991, for exactly the same unconstitutional limits it created for state-regulated gambling.
"We're confident the Court will refuse the government's motion," said Joe Brennan Jr., iMEGA chairman. "We've already settled the question of our standing, which was recognized and confirmed in previous Federal court cases…The DOJ has quite a knot to untie here. How can it now uphold a law it said was unconstitutional when it was enacted?"
Atlantic City casinos would like to offer sports betting to its immediate client base. The move could pave the way for regulated internet gambling to residents of New Jersey and eventually allow the Atlantic City casinos to offer regulated internet gambling services to US citizens outside of the state of New Jersey as well. The US Circuit Court is expected to rule on the motion filed by iMEGA before the end of 2010.
Ben Franklin, John Hancock and George Washington were all prominent sponsors of specific lotteries for public works projects and all 13 original colonies established lotteries. At one point, playing the lottery became a civic responsibility. Proceeds helped establish some of the nation's earliest and most prestigious universities such as the college of William & Mary, Harvard, Yale, Columbia, Dartmouth and Princeton. How is this current push to regulate and tax internet gambling any different than what Ben Franklin, John Hancock and George Washington did with public lotteries?
These two issues, the regulation and taxation of marijuana and internet gambling, are developing a ground swell of support across party lines and the pace of the wave will speed up each of the next election cycles in 2010, 2012 and 2016. The states need the revenue now and vice is the quickest place to grab it. Not to mention the jobs it will create here in the United States. Politicians should wake up and realize prohibition does not work! It's time to elect politicians that are pragmatic about drugs and gambling. Let's get realistic and profit off Americans desire to do drugs and gambling online instead of making the war of drugs and war on internet gambling another set of wars we lose after costing taxpayers millions of dollars fighting the futile battles. If I can stop in 7 Eleven and buy lotto tickets, why can't I bet a 5 team NFL parlay at a internet bookie?
The Federal government should be more concerned with China then they are with its own citizens engaging in internet gambling or people doing bong hits. The only problem is, they don't have a shred of credibility with the nation's biggest creditor and rising super power. The United States is threatening to take China to task for violating their WTO commitments as it relates to foreign access to the country's clean-energy market. America and China are competing to supply future green jobs and products to the world but Washington is saying the Chinese are offering additional illegal subsidies to lure companies to China.
What I don't get is why the United States thinks anyone will take them serious at the WTO if they don't honor their own commitments. Antigua won a dispute at the WTO after the United States refused to open up its domestic gambling market to the tiny Caribbean Island nation. By failing to open up its market to foreign competition while allowing domestic companies to offer gambling to its citizens, the United States violated its GATS Treaty commitments.
Washington continues to enforce the ban, despite WTO objections but the Unlawful Internet Gambling Enforcement Act (UIGEA) has failed to put a dent in the demand for foreign internet gambling services. What it has done is damage our credibility to deal with China over something as significant as the devaluation of their currency which is putting an undo burden on the American worker. The only problem is, the American worker and US citizens in general do not understand that their currency is being debased in the first place but that is a topic for another day.
Barney Frank's push to regulate internet gambling and the way the UIGEA came into existence may have one thing in common very soon. Once we hit the lame duck session you might find Frank stuffing the bill into another piece of must vote "YES" legislation much the same way the Republicans stuffed UIGEA into the Port Security Act in the middle of the night. The move that ushered a terrible law into existence dared the Democrats that knew the bill was even in the act to vote against it knowing it would make them look weak on National Security. Will we hear Touché in November? Only Barney knows.