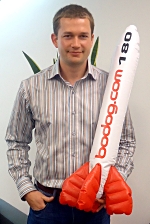 Bodog Europe's relentless recruitment drive to keep up with the growth of the business is enhanced with two more key signings:
Stuart Tilly
Stuart (pictured) joins as In-House Legal Counsel from Sportingbet where he advised and assisted in both a legal and commercial capacity for over five years. Having been involved in the industry for such a length of time, Stuart brings with him a strong background within the complex legal world of online gaming.
Stuart commented: "The pace of change in this industry is so fast, you need to have the correct strategic approach coupled with the ability to act fast to best exploit those opportunities: Bodog Europe offers that crucial flexibility that many rivals cannot."
Antony Lea
Antony joins as Product Manager – CRM. Antony's previous position was at Betfair where he was a Senior Marketing Manager and Data Planner for over three years. Antony brings a wealth of experience in analytical data and CRM.
Adds Antony: "The team being built here is a very impressive one and I am looking forward to being part of a business that's evolving both quickly and efficiently by harnessing the wealth of data available in the gaming industry."
A Bodog spokesperson continued: "Stuart & Antony are huge talents in their respective fields and represent another example of how determined we are to harvest the very best in the industry to continue our expansion in new territories for the brand."
Comments